禮樂重圓:巴赫《聖約翰受難曲》
23 APR 2017 | SUN | 3PM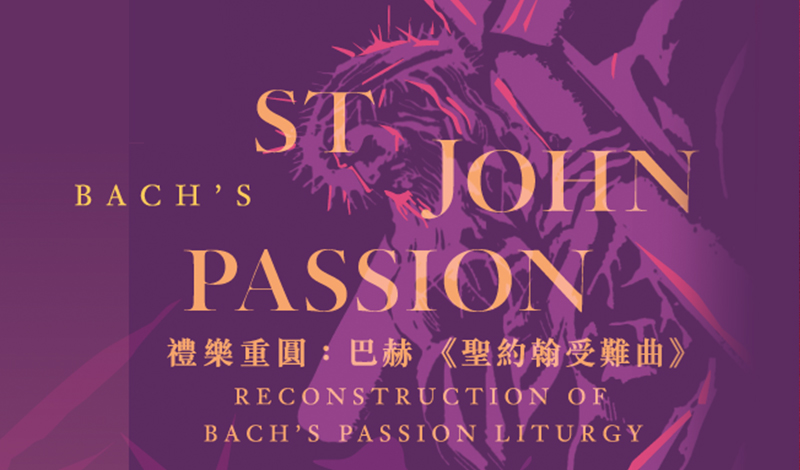 Programme
Reconstruction of Bach's Passion Liturgy
For the first time in Hong Kong, the audience can experience Bach's gripping St John Passion within its original liturgical context. This performance will give listeners a refreshing outlook, shining a new light into one of the best-known works in the choral repertoire.
Internationally renowned Bach specialist Prof. John Butt, together with Die Konzertisten and the Baroque orchestra Cammer Musicus, will recreate the Good Friday Vesper liturgy of a passion performance during Bach's time in Leipzig. In addition to the performance of Bach's composition, the concert will also feature organ chorale preludes and congregation chorales of the time.
Artists
Prof. John Butt, conductor / harpsichord
Samuel Boden, Evangelist / tenor
Caleb Woo, Jesus / baritone
Albert Lim, Pilatus / baritone
Alison Lau, soprano
Keith Pun, countertenor
Felix Yeung, choirmaster
Sanders Lau, choirmaster
Gary Ngan, concertmaster
Die Konzertisten
Cammer Musicus
Venue
Grand Hall
Lee Shau Kee Lecture Centre
Centennial Campus
The University of Hong Kong
Admission
Limited half-price concession tickets available
Remarks
For ages 6+
Approximately 2 hours
Guests are advised to arrive punctually.
No latecomers will be admitted until a suitable break in the programme.
Programmes and artists are subject to change.
Co-presented by
Supported by