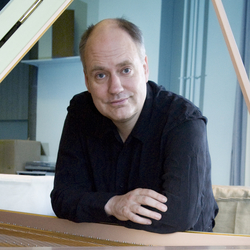 Prof. John Butt
John Butt, two-times Gramophone Award winner, is Gardiner Professor of Music at the University of Glasgow, musical director of Edinburgh's Dunedin Consort and a Principal Artist with the Orchestra of the Age of Enlightenment. His career as both musician and scholar centres on music of the seventeenth and eighteenth centuries, but he is also concerned with the implications of the past in our present culture. Author of five monographs, Butt has written extensively on Bach, the baroque, the historical performance revival and issues of modernity. His discography includes eleven recordings on organ and harpsichord for Harmonia Mundi (France) and eleven recent recordings for Linn Records. Highlights, as conductor of Dunedin, include the award-winning recordings of Handel's Messiah and Mozart's Requiem (which was also nominated for a Grammy Award), together with significant recordings of Bach's Passions, Mass and Brandenburg Concertos, and Handel's Acis and Esther. His recording of Bach's Magnificat, in the context of Bach's Christmas Vespers service was released in November 2015 and, in March 2016, Bach's Violin Concertos (with Dunedin's leader, Cecilia Bernardini) was released. Both entered the UK Specialist Classical Music Chart, at numbers 3 and 1 respectively. Dunedin's new recording of Bach's Christmas Oratorio appears in Autumn 2016.
John Butt appears regularly as a guest conductor with orchestras such as the SCO, OAE, Aurora Orchestra, English Consort, AAM, Stavanger Symphony, Portland Baroque, Irish Baroque, Ars Lyrica and the Orchestra of the Eighteenth Century. He recently conducted a concert in the Edinburgh International Festival; future engagements with Dunedin include the London Proms (2017 – embargoed – not for publication) and the Leipzig Bach Festival. In 2017 he will also be working with the BBC Welsh Orchestra and the Hallé Orchestra, for the first time.
He has been appointed an FBA and FRSE, and has been awarded the Dent Medal of the Royal Musical Society, together with the RAM/Kohn Foundation's Bach Prize. In 2013 he was awarded the medal of the Royal College of Organists, together with an OBE.