德布西講座音樂會之四:黑白之間
05 MAY 2017 | FRI | 6:30PM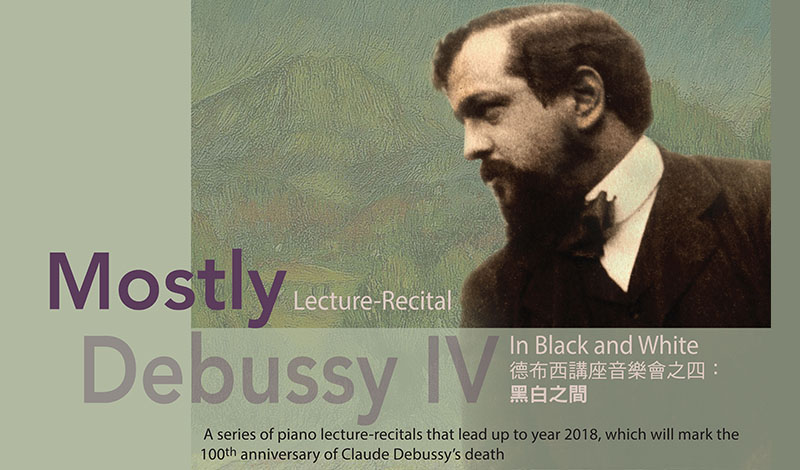 Programme
Lecture-Recital
(In English)
DEBUSSY Estampes: Pagodes
DEBUSSY Pour les quartes
DEBUSSY Berceuse héroïque
DEBUSSY Feux d'artifice
DEBUSSY Pour les sonorités opposées
DEBUSSY Pour les accords
STRAVINSKY *The Rite of Spring: Sacrificial Dance
*Piano four hands
Find out how Debussy played taichi with the black and white keys on the piano in the most imaginative way. Lucas Wong, assistant professor of piano in Soochow University School of Music, narrates a lively lecture-recital based on the interesting stories behind the works of Debussy. While the programme begins with black keys evoking sounds of Pagodes and Asia, a gradual increase of the white key invasion throughout the recital inevitably creates fireworks and a montage experience onstage. Danse Sacrale (Sacrificial Dance) from Stravinsky's The Rite of Spring will be the culminating finale, presented with guest pianist Timothy Kwok.
Artists
Lucas Wong, lecturer and pianist
Timothy Kwok, guest pianist
Remarks
For ages 6+
Approximately 1 hours without intermission
Guests are advised to arrive punctually.
No latecomers will be admitted until a suitable break in the programme.
Programmes and artists are subject to change.
Presented by

Supported by