【網上講座四】淺析幾首作品中,中西樂器的對話
19 OCT 2021 | TUE | 8:30PM
(8:30AM EST | 2:30PM CEST | 8:30PM HKT)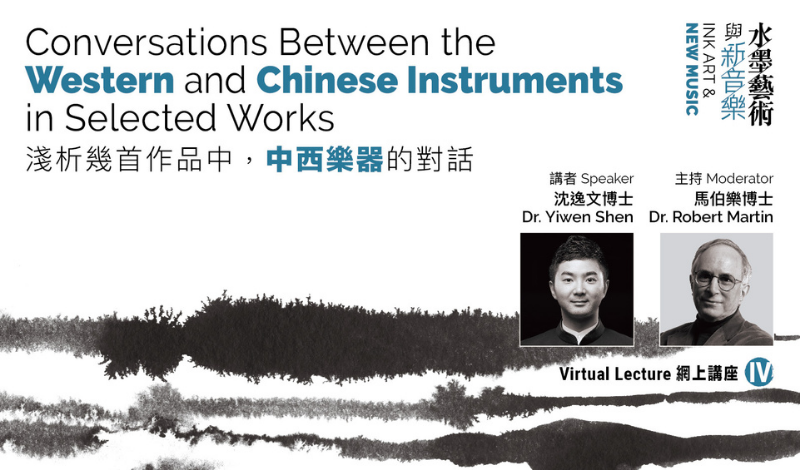 This lecture attempts to look into a selected group of compositions by composers such as Tan Dun, Chen Qigang, and Guo Wenjing, that incorporate western and Chinese instruments and explore how those composers create conversations among the instruments in meaningful, engaging, and creative ways, whether imitative, interactive, interjective, interruptive, interdictive, disruptive, etc.
該講座將淺析在選定的幾首作品中,作曲家們(譚盾、陳其鋼、郭文景等)如何在中西樂器中構造一種有機的對話,無論是模仿式的,互動式的,感嘆式的,間斷式的,打斷式的,破壞式的等等。
Speaker:
Dr. Yiwen Shen
Music Theory and New Music Ensemble, The Tianjin Juilliard School
Moderator:
Dr. Robert Martin
Emeritus Professor of Music and Philosophy, Bard College
Student Composers:
Austin Leung, HKU
Samuel Mutter, Bard
OGA, Bard
Jing Wang, HKU
Admission
FREE via online registration
Remarks
There will be an Q&A session at the end of the talk. You are welcome to send in questions.
The programme is approximately 1.5 hours.
The event link will be activated 3 days prior to the commencement of the event upon successful registration. Please click on the "EVENT PORTAL" on your electronic ticket to watch the online lecture.
Programmes and artists are subject to change.
Co-presented by
Sponsored by