【網上講座二】中西混合室內樂的演進
20 SEP 2021 | MON | 8:30PM
(8:30AM EST | 2:30PM CEST | 8:30PM HKT)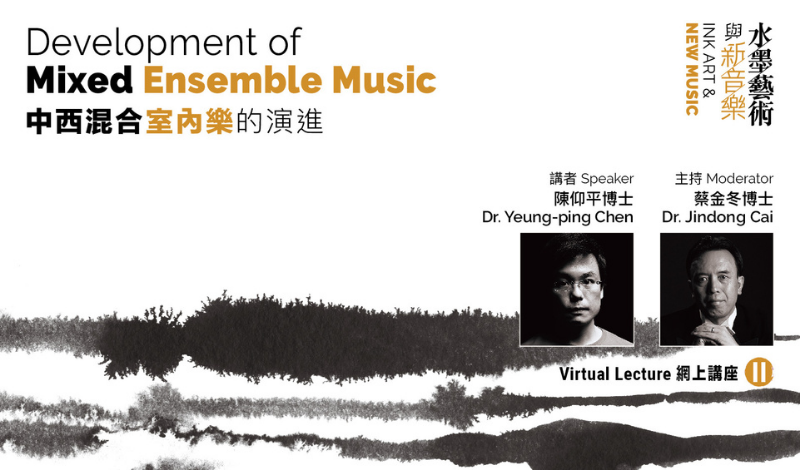 The Western chamber music is essentially different from the music for the traditional Chinese instrumental groups. Of course, they differ in terms of language and content, but also in terms of musical ideology. After the introduction of Western music into China, both musical practices have gradually naturally grown towards one another, evolving into an important new compositional genre taking essential elements and ideas from both. New works in this genre have introduced interesting breakthroughs in form and arrangement as well as exhibited new discoveries of innovative sonic and musical expressions. This lecture will review the development of this new hybrid genre and explore how composers have expressed the unique aesthetic spirit, philosophy and imagery of their cultural traditions.
西方室內樂的經典形式和中國傳統的小組器樂合奏在思維、語言和內容的表達上都有本質上的分別。在西方音樂進入中國後,中西混合室內樂逐漸演變為重要的創作體裁,也為作曲家在創作上帶來了形式和編制上的借鑒和突破,形成各種聲響和技術上的觀照和再創造。本講座將回顧半世紀以來,作曲家們在如何為這體裁作出新的定義,以表達其文化傳統中獨有美學精神,哲思和意像。
Speaker:
Dr. Yeung-ping Chen
School of Music, South China Normal University
Moderator:
Dr. Jindong Cai
Director of the US-China Music Institute, Bard Conservatory of Music
Student Composers:
Austin Leung, HKU
Samuel Mutter, Bard
OGA, Bard
Jing Wang, HKU
Admission
FREE via online registration
Remarks
There will be a Q&A session at the end of the talk.

 

The programme is approximately 1.5 hours.

 

The event link will be activated 3 days prior to the commencement of the event upon successful registration. Please click on "EVENT PORTAL" on your electronic ticket to watch the online lecture.

 

Programmes are subject to change.
Co-presented by
Sponsored by