For the End of Time: 80 Years of the Messiaen Quartet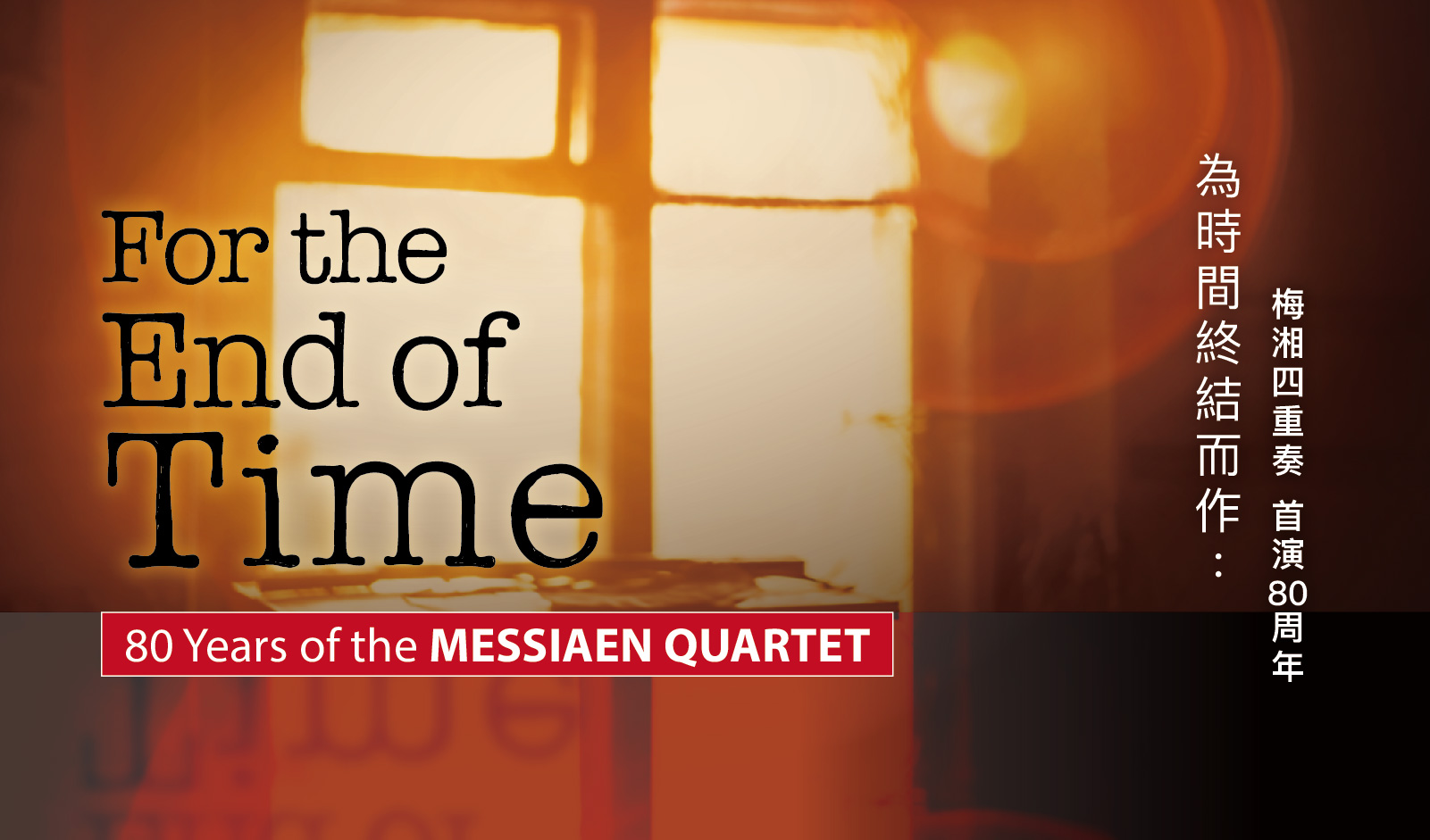 For the End of Time: 80 Years of the Messiaen Quartet
為時間終結而作:梅湘四重奏首演80周年
A Milestone Celebration for
80th Anniversary of the Quartet's Premiere & 40th Anniversary of HKU Department of Music
里程誌慶
梅湘四重奏首演80周年暨香港大學音樂系40周年
Created in a tumultuous time, Olivier Messiaen's Quartet for The End of Time is a testimonial of humanity's standing perseverance in the face of adversity. Composed and premiered in a World War II German prisoner-of-war camp, the music embodies Messiaen's unshakable belief, love of nature, and stoic resilience that liberated his creativity beyond personal suffering.
At the 80th anniversary of the work's premiere, HKU MUSE presents a specially curated series, including virtual lectures, a 'Music in Words' talk, an evening performance, a world premiere, and community outreach plans. Spearheaded by leading scholars and musicians, this series aims to introduce and bring to light the work's theological, historical, and musical significance, with relevance to our lives today.
2021 also marks the 40th anniversary of the HKU Department of Music. To celebrate these milestones, Dr. Joshua Chan of the Music Department will compose a new work with the same instrumentation. The audience will hear this new quartet commemorating Messiaen's masterpiece and take part in a world premiere, witnessing history in the making.
梅湘《時間終結四重奏》寫於漫天烽火的1941年,體現作曲家在逆境下的強大意志和創造力。被囚禁於二戰德軍戰俘營的梅湘,憑藉其虔誠的宗教信念、對大自然的熱忱及其過人的堅韌毅力,克服當下肉身和精神的煎熬,寫下這部二十世紀經典。2021年是這部作品面世80周年,港大繆思樂季將透過一系列活動,包括音樂會、委約作品、外展活動以及網上及現場講座,從神學、歷史及音樂理論多角度剖析作品背後的意義,並反思這部作品如何與現今世代產生共鳴。
2021年亦適逢港大音樂系40周年,陳錦標博士以同樣的樂器組合創作了一首全新的四重奏,於同一音樂會中首演,以茲紀念。
30 SEP | THU | 8PM
A Conversation on Time and Eternity: Messiaen's Quartet for the End of Time
談時間與永恆︰梅湘的《時間終結四重奏》
>>Details
6 OCT | WED | 8PM
【2021/22 Rayson Huang Lecture 黃麗松講座】
Doing Time: Messiaen's Quartet for the End of Time
談時間的錘鍊︰梅湘的《時間終結四重奏》
>>Details
8 OCT | FRI | 6:30PM
Music in Words: Messiaen's Quartet for the End of Time
樂語融融:梅湘的《時間終結四重奏》
>>Details
8 OCT | FRI | 8PM
For the End of Time – 80 Years of the Messiaen Quartet
為時間終結而作:梅湘四重奏首演80周年
>>Details
Presented by

Supported by