為時間終結而作:梅湘四重奏首演80周年
8 OCT 2021 | FRI | 8PM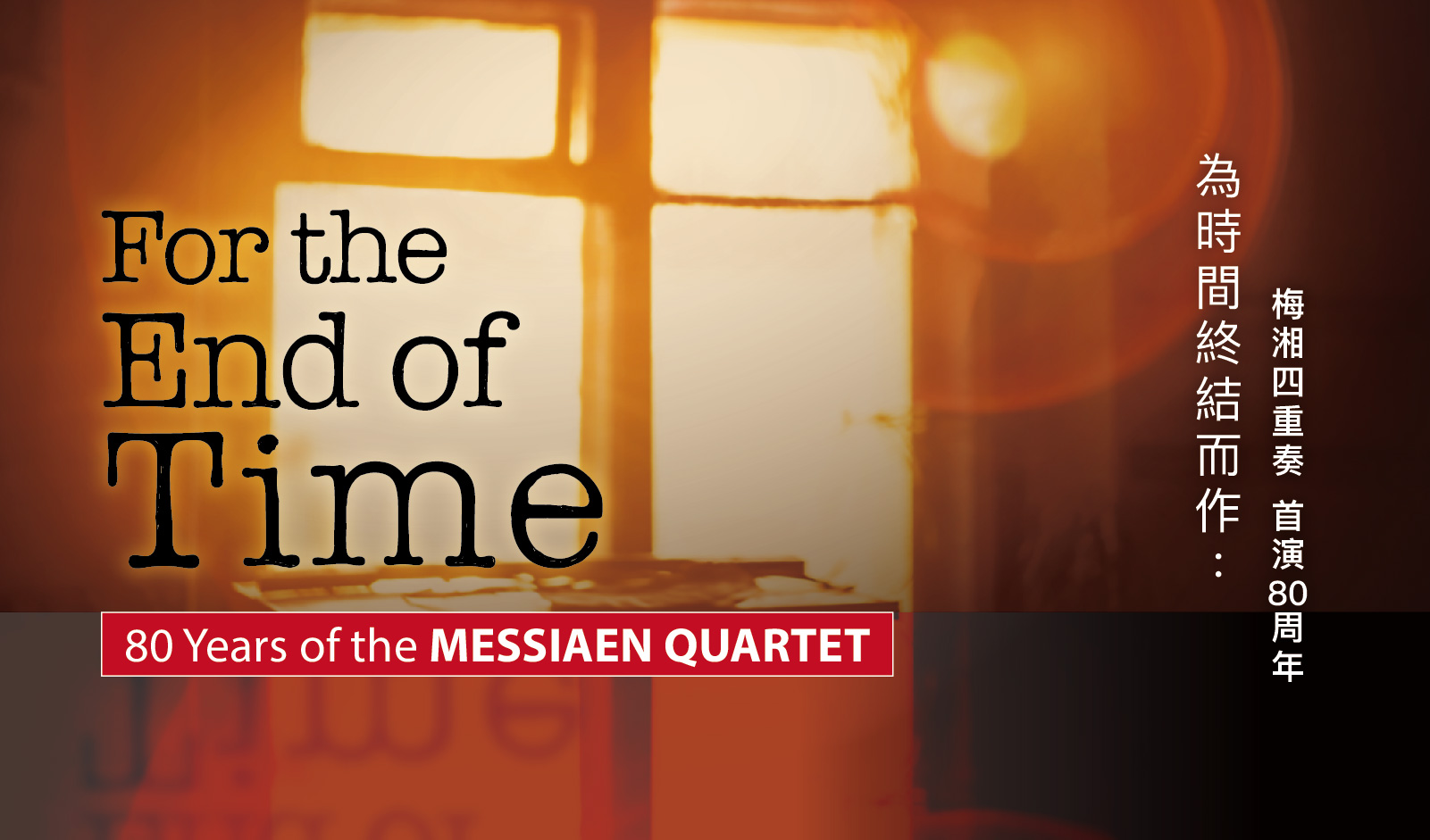 One of the greatest figures of 20th century music, the French composer Olivier Messiaen wrote and premiered his Quartet for the End of Time inside a Nazi prison camp in the bleak winter of 1941. Messiaen drew inspiration from the tenth chapter of Revelation, as a point of departure for his composition. A devout Catholic, an enthusiastic ornithologist, and a rhythmician, Messiaen created a unique language that integrated birdsong, church modes, ancient Greek and Hindu rhythms, and religious and mystical symbolism. At the Quartet's 80th anniversary, renowned pianist and music educator Nancy Loo will share the stage with Kitty Cheung (violin), Linus Fung (clarinet), and Eric Yip (cello) to perform this monumental work. This memorable year also marks the 40th anniversary of the HKU Department of Music. To celebrate these milestones, the musicians will premiere a Messiaen-inspired new work by Dr. Joshua Chan of the Music Department.
被視為二十世紀最偉大室樂作品之一的《時間終結四重奏》,是法國作曲家梅湘在1941年被德軍俘虜期間,承受着戰火創傷和殘酷現實所寫下的音樂,於戰俘營內為囚友們舉行首演。梅湘是虔誠的天主教徒,醉心研究不同調式及節奏體系,並對鳥語甚有心得。這些元素和修養交織出梅湘自成一派的音樂語彙。他以《啟示錄》為靈感,將自己堅定的信仰、對大自然的崇敬,及囚禁中對時間和人性的反思於作品中一一呈現,八個樂章對演奏者的獨奏能力及重奏默契要求極高。是次音樂會將由著名鋼琴及音樂教育家羅乃新女士,聯同新晉樂手張文蕊(小提琴)、馮逸山(單簧管)及葉俊禧(大提琴),為大家詮釋這部經典。除了紀念《時間終結四重奏》首演80周年,今年亦適逢港大音樂系40周年,四位樂手同場亦會首演陳錦標博士受梅湘啟發而寫就的新作。
Programme
JOSHUA CHAN Fiery Rustles of Rain
(World Premiere – written for the 40th Anniversary of the Department of Music, HKU)
OLIVIER MESSIAEN Quartet for the End of Time 
陳錦標 《雨颯沓》
為香港大學音樂系40周年而寫(世界首演 )
梅湘 《時間終結四重奏》
Artists
張文蕊 / 小提琴 Kitty Cheung, violin
馮逸山 / 單簧管 Linus Fung, clarinet
葉俊禧 / 大提琴 Eric Yip, cello
羅乃新 / 鋼琴 Nancy Loo, piano
Remarks
Patrons under the age of 12 will not be admitted.
The programme is approximately 1 hour without intermission.
Guests are advised to arrive punctually. No latecomers will be admitted until a suitable break in the programme.
Please show the QR code in your confirmation email for admission.
Due to social distancing requirements, some seats in the Grand Hall will be left empty. Please only take your assigned seat as stated on the ticket.
A temperature check will be conducted upon entry. Anyone with fever or respiratory symptoms should seek medical advice and will not be admitted.
Hand sanitising stations are available at the foyer.
Guests are required to wear masks throughout the event.
Programmes and artists are subject to change.
Presented by

Supported by