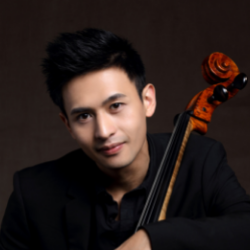 葉俊禧 Eric Yip
Yip has been a member of the Hong Kong Sinfonietta since 2011. Before returning to Hong Kong, he was a member of the Civic Orchestra of Chicago and the principal cellist of the Pacific Music Festival Orchestra.
Yip is also the founding member of the Romer String Quartet. He has been giving chamber recitals in Europe, Asia and the United States (Carnegie hall) and was featured in the Hong Kong Arts Festival and the Beare's Premiere Music Festival.
He has been invited to give masterclasses in Malaysia and Hong Kong Youth Music Camp and currently the faculty member of the Junior School of Music of The Hong Kong Academy for Performing Arts.
Yip was a recipient of the Hong Kong Jockey club Music and Dance Fund which supports his studies in Chicago before graduating from the Hong Kong Academy for Performing Arts. His principal teachers were Ray Wang, John Sharp, Richard Hirschl and Chai Hong Fong.
葉氏現分別於羅曼四重奏及香港小交響樂圑擔任大提琴手,並任教於演藝學院的青少年音樂課程。他曾於美國、歐洲、馬來西亞、日本、台灣、中國多個城市和香港不同的室內樂音樂節演出。師隨王磊教授於香港演藝學院畢業後,他獲得香港賽馬會頒發獎學金,前往芝加哥,並曾是芝加哥市域樂團的團員和擔任日本太平洋音樂節的大提琴首席。