一才鑼鼓的南音
9 APR 2021 | FRI | 6:30PM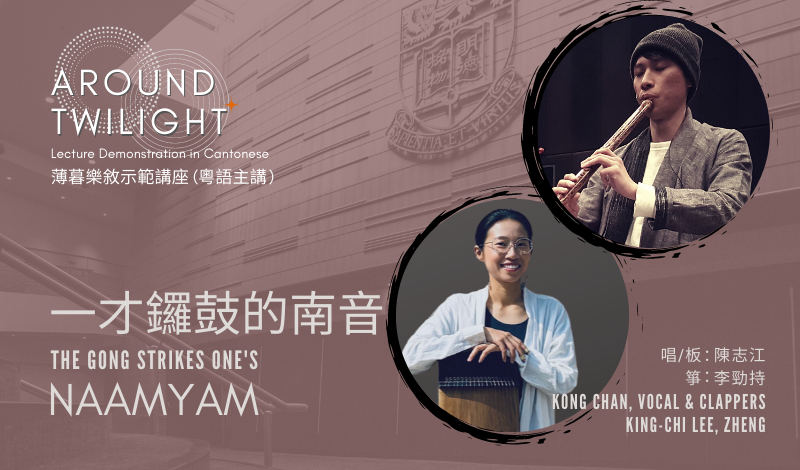 Programme
新晉藝團「一才鑼鼓」由陳志江及李勁持成立,致力探索和發掘戲曲的各種表演形式,並透過音樂會、說唱、劇場、即興、跨界等演出呈現戲曲的新面貌,近年更為香港各區撰寫南音新曲。是次講座將闡釋為何戲曲唱段是「音樂格式與音韻格式結合與共生」之極佳例子,以粵曲曲式(如梆子、二黄)、以及傳統粵語說唱(如南音、板眼)為例,分釋、解構其「原始碼」,說明其毋須主動的作曲或作詞者,卻仍可源源不絕衍生新曲以至新曲式的原理。陳慶恩教授除擔任主持外,更會以椰胡拍和,引領觀眾一窺傳統的堂奧。
Established by Kong Chan and King-Chi Lee, The Gong Strikes One endeavours to explore different performance settings of​ Chinese opera, as well as to rejuvenate the art form through instrumental concerts, narrative songs, theatrical works, improvisations, and cross-media performances. In this lecture demonstration on naamyam (a form of Cantonese narrative singing), the artists aim to analyse and decipher its 'source code' and illustrate how new compositions and new forms can be extensively reinvented without the intervention of a composer or lyricist. Apart from moderating this session, Professor Chan Hing-yan will also join in with his yehu and invite the audience to have a glimpse into the intriguing world of traditional Chinese music.
Artists
陳志江/唱,板 Kong Chan, vocal & clappers
李勁持/箏 King-chi Lee, zheng
陳慶恩教授/主持 Prof. Chan Hing-yan, host
Remarks
Patrons under the age of 8 will not be admitted.
The programme is approximately 1 hour without intermission.
Guests are advised to arrive punctually. No latecomers will be admitted until a suitable break in the programme.
Please show the QR code in your confirmation email for admission.
Due to social distancing requirements, some seats in the Grand Hall will be left empty. Please only take your assigned seat as stated on the ticket.
A temperature check will be conducted upon entry. Anyone with fever or respiratory symptoms should seek medical advice and will not be admitted.
Hand sanitising stations are available at the foyer.
Guests are required to wear masks throughout the event.
Programmes and artists are subject to change.
Presented by

Supported by