塔克斯四重奏之巴爾托克全集 II
22 SEP 2019 | SUN | 3PM
Programme
Applying extended techniques in unprecedented ways, Bartók opened up a whole new world of sonic possibilities for the strings. Among the most notable is the Allegretto pizzicato of the Fourth Quartet (1928). Composed entirely out of pizzicato tones with various timbres and degrees of accentuation, this brief movement provides a stark contrast to the preceding and ensuing movements. Bartók's expanded sonic spectrum enables him to conduct deeper musical investigations into the intricate human psyche. Amid the cultural, economic, and political turmoil in the first half of the twentieth century, tumultuous and extreme emotions seemed commonplace. Having lived through two of the most devastating wars in human history, Bartók tended to paint his music with dark colours and, at times, drive it with irresistible momentum, as if portraying the irresistible force of history. The insane and agitated rapture of the Allegro molto capriccioso of the Second Quartet (1917) is framed by the uneasy and gloomy mood of the Moderato and the Lento. The Sixth Quartet (1939) is permeated with melancholy. Although the negative mood is at times interrupted by lively passages, the superficiality of the momentary joy is betrayed by the eerie glissandi.
Artists
Edward Dusinberre, violin
Harumi Rhodes, violin
Geraldine Walther, viola
András Fejér, cello
Music in Words with the Takács
(In English)
Moderator: Prof. Chan Hing-yan, Department of Music, HKU
20 SEP 2019 | FRI | 7PM
Rehearsal Room, LG1/F, Run Run Shaw Tower, HKU
Venue
Grand Hall
Lee Shau Kee Lecture Centre
Centennial Campus
The University of Hong Kong
Admission
For ages 12+
Tickets at URBTIX starting 14 Jun
HKU Discounts: Students $50 | Staff 15% off (Valid HKU student / staff card required upon purchase at URBTIX outlets and entry to venue)
Be a MUSE members 10% off
Full-time students, citizens aged 60 or above & people with disabilities 50% off
Discounts cannot be combined
Concert Excerpt - Bartók String Quartet No. 6, Final Movement
Photo Gallery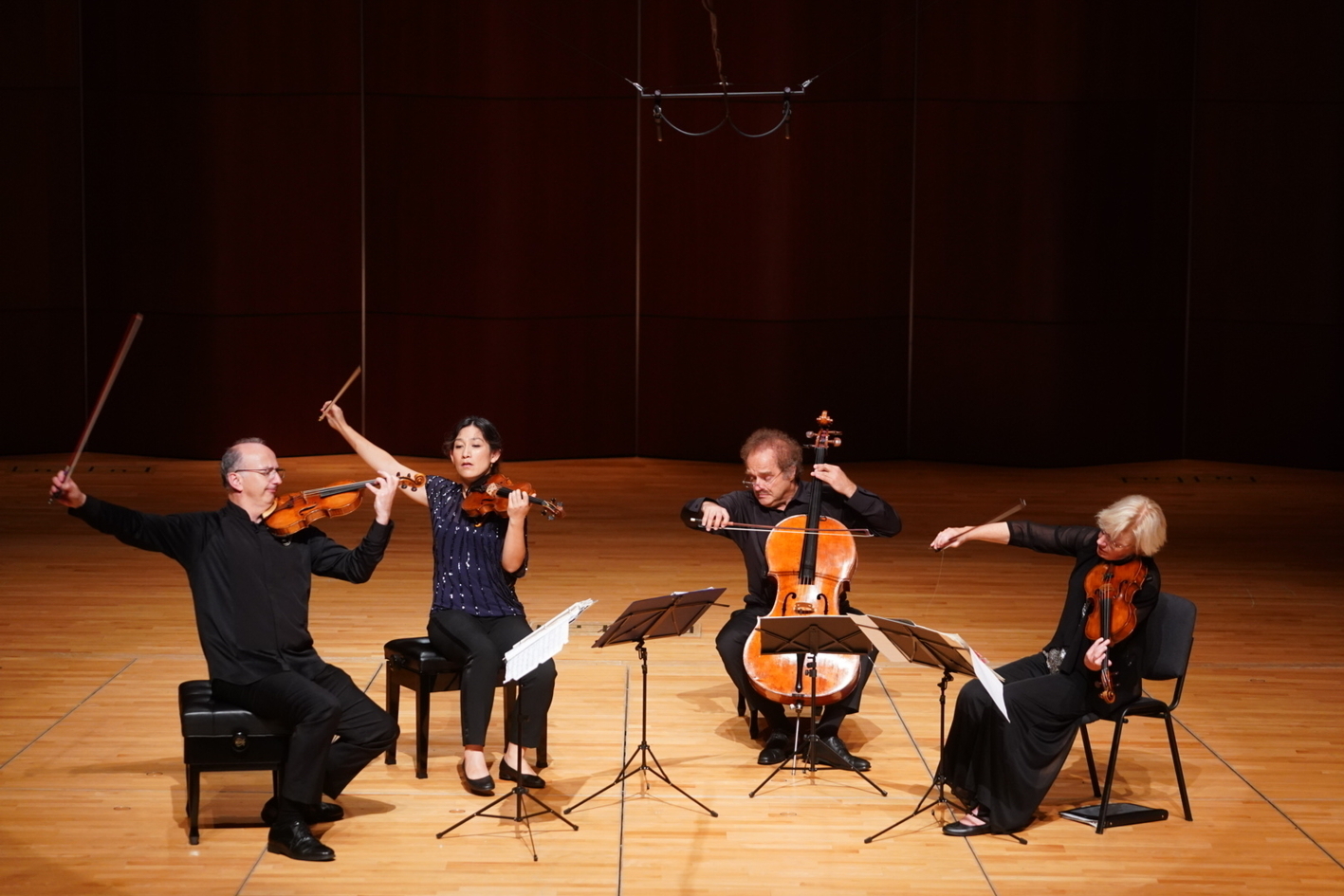 Remarks
Patrons under the age of 12 will not be admitted.
Approximately 90 minutes with an intermission
Guests are advised to arrive punctually.
Programmes and artists subject to change
Latecomers will be admitted during intermission – please plan to arrive early.
Presented by

Supported by