俄羅斯鋼琴經典 III:列夫席茲與霍羅丁的拉赫曼尼諾夫前奏曲全集
16 APR 2023 | SUN | 3:30PM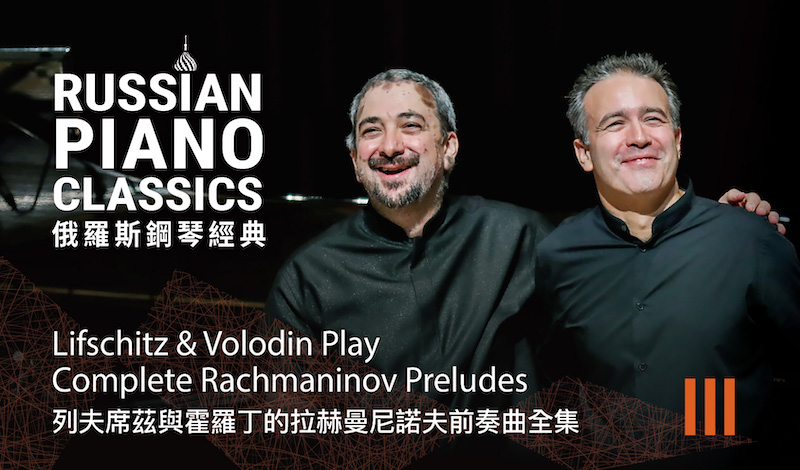 Programme
RACHMANINOV 24 Preludes (with two alternating pianos)
     Prelude in C-sharp minor, Op. 3, No. 2     
     10 Preludes, Op. 23
     13 Preludes, Op. 32
At 19, Sergei Rachmaninov composed the C-sharp minor prelude right after he graduated from the Moscow Conservatory. Its huge success motivated him to complete a set of 24 preludes following Chopin's footsteps, except that Rachmaninov's are all full-length pieces, demanding stratospheric keyboard technique and penetrating musicianship. Celebrating Rachmaninov's 150th anniversary this year, pianist Konstantin Lifschitz will join forces with fellow Gnessin Academy pianist and lifelong friend Alexei Volodin in unveiling the set's expansively colourful sonorities, with two alternating pianos on stage.
拉赫曼尼諾夫創作《升C小調鋼琴前奏曲》時年僅19歲,剛從莫斯科音樂學院畢業。作品首演好評如潮,大受鼓舞的他於是仿效蕭邦,埋首創作共24首鋼琴前奏曲。這套總長約80分鐘的全集,講求高超的技巧和洞幽燭微的音樂感。適逢拉赫曼尼諾夫誕辰150周年,鋼琴家列夫席茲將與莫斯科尼辛斯音樂學院同門好友霍羅丁同台,以雙鋼琴演奏輪流為大家解構當中壯闊珣麗的音色。
Biographies
Venue
Grand Hall
Lee Shau Kee Lecture Centre
Centennial Campus
The University of Hong Kong
Admission
For ages 10+
Tickets at art-mate.net starting 5 JAN noon
'MUSE at 10' Package Discount
Save 10% with Early Bird code MUSEat10

(valid until 30 JAN 2023)

Save 20% for booking of 3-4 concerts
Save 30% for booking of 5-7 concerts
Save 40% for booking of 8 or more concerts
Other Discounts:
Full-time students, citizens aged 60 or above & people with disabilities 50% off
For purchase of each concessionary ticket for people with disabilities, the customer can purchase one ticket at the same concessionary rate for a minder
HKU Student Discount: $50*
With limited quota. Discounts cannot be combined
* Maximum 2 tickets per transaction. Available to current HKU students only. HKU ID required upon purchase and must be presented for entry.
Remarks
Patrons under the age of 10 will not be admitted.
The programme is approximately 1 hour and 30 minutes with an intermission.
Guests are advised to arrive punctually. No latecomers will be admitted until a suitable break in the programme.
Programmes and artists are subject to change.
The presenter reserves the right to make final decisions on seating arrangement, to deny entry, and reserve all rights of final arbitration in case of dispute.
Presented by
In collaboration with

Supported by