茱莉亞弦樂四重奏
13 OCT 2018 | SAT | 8PM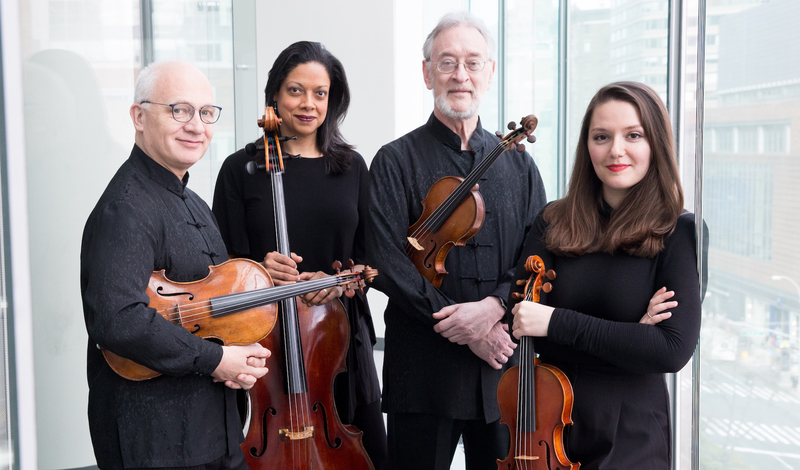 Programme
BEETHOVEN String Quartet in D major, Op. 18, No. 3
BEECHER One Hundred Years Grows Shorter Over Time (Asia Premiere)
DVOŘÁK String Quartet in F major, Op. 96, 'American'
The chamber music highlight of this semester features "the most important American quartet in history" (The Boston Globe), performing Dvořák's 'American' String Quartet in F major. Founded in 1946, the Juilliard String Quartet has tingled the audience with their technical superiority and extraordinary interpretative sophistication. This year, the award-winning ensemble welcomes new member Areta Zhulla as the First Violinist in September.
Appointed as HKU University Artist for 2017-2019, the ensemble will grace the Grand Hall stage and will also work with students in two workshops. Apart from Dvořák's string quartet, they will present the first string quartet written by Beethoven, as well as the Asia premiere of American composer Lembit Beecher's new work. Sit back and embrace the 'Americanness' in the music, brought to you by the newest cast of the Juilliard String Quartet.
Artists
Areta Zhulla, violin
Ronald Copes, violin
Roger Tapping, viola
Astrid Schween, cello
Workshops
(In English)
Auditors welcome. First-come-first-served. No prior registration needed.
Chamber Music Workshop 室樂工作坊

12 OCT 2018 | FRI | 11:00AM-12:30PM
Grand Hall, Lee Shau Kee Lecture Centre, HKU
Members from the Juilliard String Quartet will coach students from HKU Music Department's Advanced Music Performance Course (MUSI1018/2047/3019/4002). Chamber works by Gounod, Rossini, Dvořák, Reinecke, Leoncavallo, and Glentworth will be presented. Course instructor: Dr. Jacqueline Petitto


Composers' Workshop 作曲家工作坊
12 OCT 2018 | FRI | 2:30-4PM
Grand Hall, Lee Shau Kee Lecture Centre, HKU
In this reading session, two HKU student composers, Alex Au (PhD Candidate) and Arthur Yuen (BA Year 4), are invited to present their newly composed works for string quartet. The scores will be read by the Juilliard String Quartet and the musicians will share their thoughts and suggestions with the composers. Moderator: Prof. Chan Hing-yan

Remarks
For ages 8+
Approximately 1.5 hours
Guests are advised to arrive punctually.
No latecomers will be admitted until a suitable break in the programme.
Programmes and artists are subject to change.
Presented by

In collaboration with
Supported by