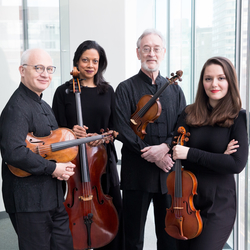 Juilliard String Quartet
With unparalleled artistry and enduring vigor, the Juilliard String Quartet continues to inspire audiences around the world with its performances. Founded in 1946, and widely known as "the quintessential American string quartet," the Juilliard draws on a deep and vital engagement with the classics, while embracing the mission of championing new works – a vibrant combination of the familiar and the daring. Each performance of the Juilliard Quartet is a unique experience, bringing together the four members' profound understanding, total commitment, and unceasing curiosity in sharing the wonders of the string quartet literature.
Having welcomed cellist Astrid Schween and celebrated its 70th anniversary last season, the Juilliard String Quartet marks the 2017-18 season with highly anticipated return appearances in Seattle, Santa Barbara, Pasadena, Memphis, Raleigh, Houston, Amsterdam, and Copenhagen. The Quartet continues its acclaimed annual performances in Detroit, Philadelphia, and at the Ravinia Festival, along with numerous concerts at home in New York City, including appearances at Lincoln Center and Town Hall. The season kicks off with the release of a new album featuring the world premiere recording of Mario Davidovsky's Fragments (2016), together with Beethoven Op. 95 and Bartók No. 1. Highlights of concert programming throughout the 2017-18 season include visionary works by Beethoven, Bartók, and Dvořák, as well as James MacMillan's haunting and evocative Quartet No. 2, Why is this night different? (1998).