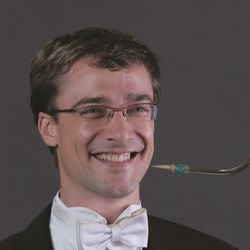 Adam Treverton Jones 崔祖斯
Originally from South Wales, Adam Treverton Jones is now in his 18th season in the HK Phil playing contra bassoon and bassoon. He studied at the Royal College of Music and Guildhall School of Music and Drama in London, earning a Bachelor of Music (Hons) and Master of Music in the process. He enjoys participating in and leading many educational outreach concerts with various ensembles, and is involved with frequent chamber performances in many venues around Hong Kong. He teaches at The Hong Kong Academy of Performing Arts, and adjudicates on various examinations and competitions there and around Hong Kong.
Adam has had the opportunity to perform with other orchestras, including the Hallé, BBC Symphony, BBC Philharmonic and Royal Liverpool Philharmonic.
Off stage, Adam practices yoga, and is hoping to begin the training to be a yoga teacher, to build further upon his practice and teaching of music. Cooking, hiking and fly fishing count among his other interests.
崔祖斯來自英國威爾斯,為香港管弦樂團的巴松管及低音巴松管樂手,至今已與港樂同行第18個樂季。他畢業於英國皇家音樂學院及倫敦喬凱音樂及戲劇學院,分別獲音樂(榮譽)學士及碩士學位。崔祖斯樂於參與以教育及外展音樂會,帶領不同樂團和組合參與演出,又經常在本港多處演奏室樂。他同時於香港演藝學院任教,並為該校以及香港多個考試和比賽擔任評審。崔祖斯曾與多個樂團合作,其中包括哈雷樂團、BBC交響樂團、BBC愛樂及皇家利物浦愛樂樂團等。
除了演奏之外,崔祖斯愛好瑜伽,更希望成為瑜伽教練,藉著運動鞏固他本身的音樂演出及教學。此外,烹飪、遠足及飛蠅釣魚亦是他的興趣。