Click To Enlarge
Lifschitz's Beethoven Cycle trailer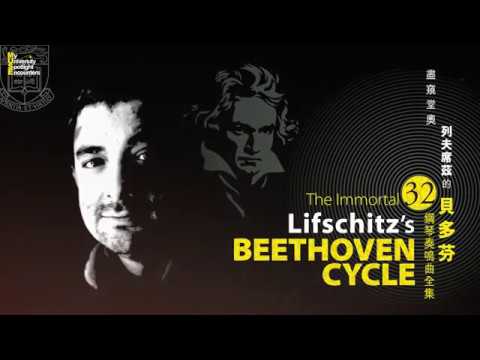 The Immortal 32: Lifschitz's Beethoven Cycle Programme V
盡窺堂奧:列夫席茲的貝多芬鋼琴奏鳴曲 V
Grand Hall
Lee Shau Kee Lecture Centre
Centennial Campus
The University of Hong Kong

Tickets
$220
Book 3-5 concerts - save 20%
Book 6-7 concerts - save 30%
Book 8 concerts - save 40%
HKU Discounts: Students $50 | Staff 15% off
Valid HKU student / staff card required upon purchase
at URBTIX outlets and entry to venue
Concession tickets are also available. Discounts cannot
be combined.

Programme
Piano Sonata No. 17 in D minor, Op. 31, No. 2, 'Tempest'
Piano Sonata No. 18 in E-flat major, Op. 31, No. 3, 'The Hunt'
Piano Sonata No. 19 in G minor, Op. 49, No. 1
Piano Sonata No. 20 in G major, Op. 49, No. 2
Piano Sonata No. 21 in C major, Op. 53, 'Waldstein'

It may be hard to draw a point-to-point parallelism between Shakespeare's play with the so-called 'Tempest' Sonata (Op. 31 No. 2), but it is not difficult to hear the play's tragic drama, beautiful romance and wondrous magic in the sonata. In the third piece of Op. 31, Beethoven's sense of humour returns with a shade of darkness. The two sonatas of Op. 49, in two movements each, display beauty in simplicity, contrasting with the splendid sublimity of the 'Waldstein' Sonata (Op. 53).

---
For ages 6+

Approximately 1.5 hours with an intermission

Guests are advised to arrive punctually.

No latecomers will be admitted until a suitable break in the programme.

Programmes and artists are subject to change.
Presented by
Supported by
2017-18 MUSE
Season Brochure