辻井伸行與奧菲斯室樂團
13 APR 2019 | SAT | 8PM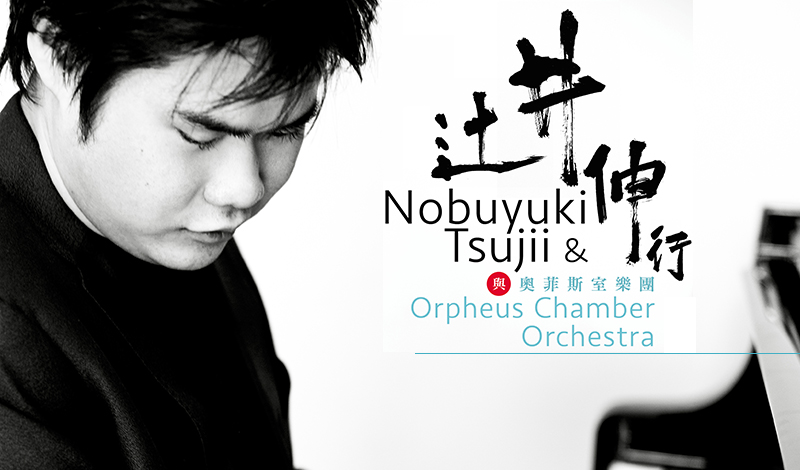 Programme
ARENSKY Variations on a Theme by Tchaikovsky, Op. 35a
CHOPIN Piano Concerto No. 2 in F minor, Op. 21 (arr. Shuying Li)
TCHAIKOVSKY String Quartet No. 1 in D major, Op. 11 (arr. Christopher Theofanidis)
"Absolutely miraculous. His performance had the power of a healing service. It was truly divine." – Van Cliburn's remarks after Tsujii's win at the Van Cliburn Piano Competition in 2009
"The piano is an extension of my own body," says Nobuyuki Tsujii, the remarkable Japanese pianist who has been blind from birth. Learning by ear, Nobu (as he prefers to be known) gave his debut recital in Tokyo at the age of 12, and in less than 10 years he won a Gold Medal at the prestigious Van Cliburn Piano Competition. In this highly anticipated Hong Kong debut, the audience will hear Nobu's performance of Chopin's Second Concerto, with his effortless technique, beautiful tone, and expressive musicianship.
On the same stage will be New York's Grammy-winning Orpheus Chamber Orchestra, minus the conductor though, as the orchestra is determined to impress the audience with its famous collaborative leadership style, delivering two arrangements by Shuying Li and Christopher Theofanidis as well as a work by Anton Arensky.
Artists
Orpheus Chamber Orchestra
Nobuyuki Tsujii, piano
Music in Words with Nobuyuki Tsujii
(In English and Japanese)
Moderator: Dr. Giorgio Biancorosso, Department of Music, HKU
Moderator/Interpreter: Dr. Yoshiko Nakano, Department of Japanese Studies, HKU
12 APR 2019 | FRI | 7PM
Grand Hall, Lee Shau Kee Lecture Centre, HKU
Music in Words with Alexander Scheirle, Executive Director of Orpheus Chamber Orchestra
(In English)
Moderator: Prof. Daniel Chua, Chairperson, Department of Music, HKU
13 APR 2019 | SAT | 6:30PM
CPD-LG.34, LG/F, Run Run Shaw Tower, Centennial Campus, HKU
Venue
Grand Hall
Lee Shau Kee Lecture Centre
Centennial Campus
The University of Hong Kong
Admission
This concert is sold out – thank you for your support!
Tickets at URBTIX starting 22 Jan
HKU Discounts: Students $50 | Staff 15% off (Valid HKU student / staff card required upon purchase at URBTIX outlets and entry to venue)
Be a MUSE members 10% off
Full-time students, citizens aged 60 or above & people with disabilities 50% off
Discounts cannot be combined
Event Highlights
Full Concert Streaming
Photo Gallery
Remarks
For ages 8+
Approximately 1.5 hours with an intermission
Guests are advised to arrive punctually.
No latecomers will be admitted until a suitable break in the programme.
Programmes and artists are subject to change.
Co-presented by

Supported by