聚焦管弦:中提琴
15 MAY 2022 | SUN | 3PM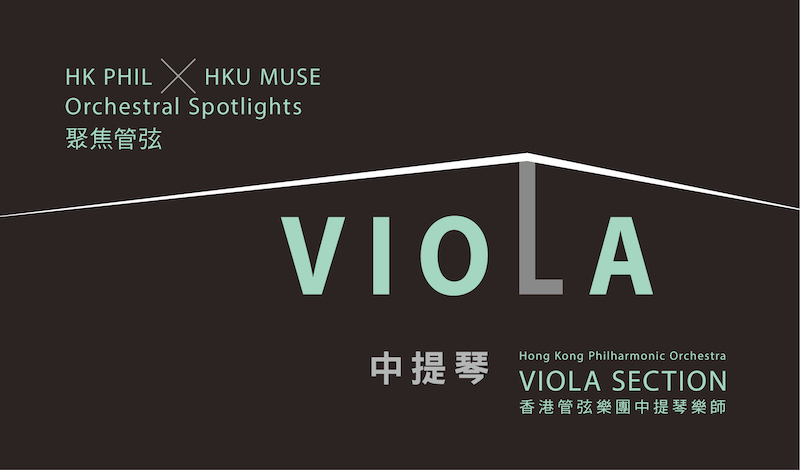 港樂 x 港大繆思樂季:「聚焦管弦」系列
HK Phil x HKU MUSE: Orchestral Spotlights
The Hong Kong Philharmonic Orchestra, in collaboration with HKU MUSE, is delighted to present a chamber music series spotlighting different sections of the orchestra. In this concert, the HK Phil Viola Section will demonstrate the rich, expressive power of this unique instrument with various ensemble pieces, as well as arrangements of two iconic works by Piazzolla and Vitali. The concert will also feature the world premiere of Sauntering on Snowflake, by HKU composer Yuet-ming David Chan.
香港管弦樂團聯乘香港大學繆思樂季(HKU MUSE)呈獻一系列現代室樂音樂會,聚焦樂團不同聲部。今次主角港樂中提琴小組成員,將以多首合奏作品為大家示範中提琴豐富又具感染力的獨特音色。此外,樂手亦會演奏皮亞佐拉和韋塔利的兩首經典改編作品,並為香港大學作曲家陳聿銘的《踱雪》作世界首演。
Programme
PIAZZOLLA (arr. Kenny CHOY) The Four Seasons of Buenos Aires: Invierno Porteño (Winter), Primavera Porteña (Spring)
BRUCH Romanze for Viola & Orchestra, Op. 85
Frank BRIDGE Lament for Two Violas
Yuet-ming David CHAN Sauntering on Snowflake (World Premiere)
BOWEN Fantasia for Four Violas, Op. 41, No. 1
Christopher LOWRY Romanza for Four Violas
VITALI (arr. Andrew LING) Chaconne
皮亞佐拉(蔡健銓改編) 《布宜諾斯艾利斯的四季》:冬、春
布魯赫 給中提琴和樂團的浪漫曲,Op. 85
畢烈治 給兩部中提琴的《悲歌》
陳聿銘 《踱雪》(世界首演)
鮑雲 給四部中提琴的《幻想曲》,Op. 41, No. 1
羅利 給四部中提琴的浪漫曲
韋塔利 (凌顯祐改編) 夏康舞曲
Artists
HK Phil Viola Section 港樂中提琴小組
Andrew Ling 凌顯祐
Jiali Li 李嘉黎
Kaori Wilson 熊谷佳織
Chris Choi 蔡書麟
Cui Hongwei 崔宏偉
Fu Shuimiao 付水淼
Ethan Heath 洪依凡
Li Ming 黎明
Damara Lomdaridze 林慕華
Alice Rosen 羅舜詩
Sun Bin 孫斌
Zhang Shu-ying 張姝影
Special Appearance 特別演出
Benedikt Fohr, HK Phil Chief Executive (in Vitali's Chaconne)
港樂行政總裁 霍品達(韋塔利的夏康舞曲)
HKU Composer
Yuet-ming David Chan 陳聿銘

HKU Vaccine Pass*
Please present an electronic version or a paper copy of your COVID-19 vaccination record for admission. For the latest vaccination requirements of the "Vaccine Pass", please visit HKU's COVID-19 Info Hub.
* Exempted scenarios include: (1) Children under 5 years of age, (2) recovered persons previously infected with COVID-19 and within 6 months from recovery, or (3) persons with a certified medical exemption.
Remarks
Patrons under the age of 8 will not be admitted.
Except for exempted persons**, all concert-goers are required to use the "LeaveHomeSafe" app to scan the venue QR code before entering HKU and the Grand Hall.
The programme is approximately 1 hour without intermission.
Guests are advised to arrive punctually. No latecomers will be admitted until a suitable break in the programme.
Please show the QR code in your ticket confirmation email for admission.
Due to social distancing requirements, some seats in the Grand Hall will be left empty. Please only take your assigned seat as stated on the ticket.
A temperature check will be conducted upon entry. Anyone with fever or respiratory symptoms should seek medical advice and will not be admitted.
Hand sanitising stations are available at the foyer.
Guests are required to wear masks throughout the event.
Programmes and artists are subject to change.
The presenter reserves the right to make final decisions on seating arrangement.
** Persons aged below 12 or aged 65 or above and those with disabilities that render use of the app difficult. All exempted persons are required to register their names, their contact numbers, and the date and time of their visits. They are also required to present relevant identification documents for verification at the request of the staff on-site during registration.
Co-presented by

Supported by