聚焦管弦:低音大提琴
5 MAR 2023 | SUN | 3PM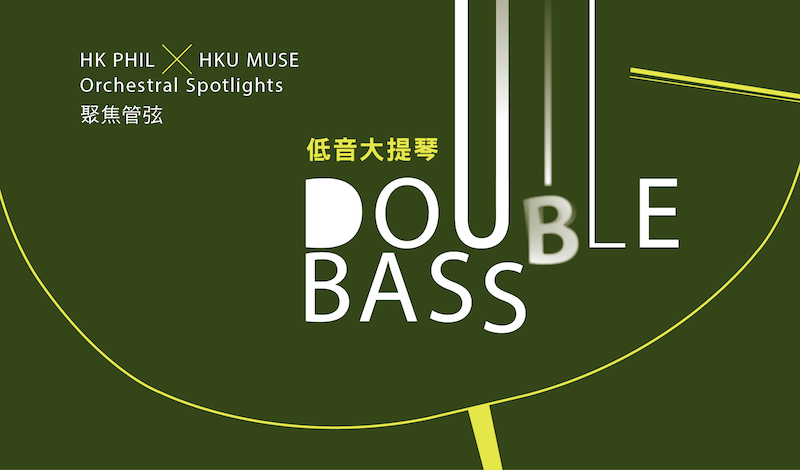 港樂 × 港大繆思樂季:「聚焦管弦」系列
HK Phil × HKU MUSE: Orchestral Spotlights
The Hong Kong Philharmonic Orchestra (HK Phil) is delighted to collaborate with the HKU MUSE once again to present a chamber music concert to spotlight a specific section of the orchestra. This time the protagonist is the HK Phil Double Bass Section. The double bass section, as the lowest-sounding member of the string family, often provides solid foundation to the orchestral texture in classical music—always keeping a low profile but totally indispensable. In Jazz, however, the double bass is the real charmer which plays the dance-like, rhythmic bassline pizzicato, or plucked. This concert will feature a collage of works from various historical periods and styles, including Renaissance, Baroque and American Jazz. The concert will also feature the performance of If the universe is in movement and not at rest… by HKU composer Owen Ho.
香港管弦樂團(港樂)聯乘香港大學繆思樂季(HKU MUSE),再度呈獻聚焦樂團不同聲部的現代室樂音樂會,這次主角是港樂的低音大提琴小組成員。在西方弦樂器中聲音最低沉渾厚的低音大提琴,於古典作品裡常以穩定節拍的定海神針姿態出現,低調但不可或缺;在爵士音樂裡,它則化身為獨當一面的萬人迷,以撥弦(pizzicato)方式彈奏富節奏感的低音線條,令人輕鬆欲舞。這場音樂會將帶領大家遊走於不同時代,一次過感受包羅文藝復興古樂、巴赫清唱劇以至美國當代爵士大師作品的低音域美樂拼盤。此外,樂師亦會演奏香港大學作曲家何飛雲的作品《若萬物皆於運動之中而非靜止……》。
Programme
Giorgi MAKHOSHVILI Organic
Giorgi MAKHOSHVILI Disco
Tony OSBORNE All in a Day's Work
François RABBATH (arr. Klaus TRUMPF) Kobolds
Owen HO If the Universe is in Movement and Not at Rest… (World Premiere)
PRAETORIUS (arr. FLOWERMAN) Be Not Dismayed, Thou Little Flock
BACH (arr. FLOWERMAN) Jesu, meine Freude
BACH (arr. FLOWERMAN) Wachet auf, ruft uns die Stimme
Giovanni BOTTESINI (arr. Klaus TRUMPF) Passione Amorosa: 1st & 3rd Movement
ALBINONI (arr. Klaus TRUMPF) Adagio
Chick COREA (arr. Jeffrey LEHMBERG) Armando's Rhumba
Pierrick HARDY Touetatou
馬克霍舒維利 《有機體》
馬克霍舒維利 《的士高》
奧斯本 《習以為常》
哈巴特(特朗普夫改編) 《小妖怪》
何飛雲 《若萬物皆於運動之中而非靜止……》(世界首演)
普雷托流斯(法雅文改編) 《不要懼怕,你們這小群》
巴赫(法雅文改編) 《耶穌,我的喜樂》
巴赫(法雅文改編) 《沉睡者,醒來吧》
波特西尼(特朗普夫改編) 《狂熱的愛》:第一及第三樂章
亞賓朗尼(特朗普夫改編) 《慢板》
高利雅(林傑飛改編) 《阿曼多的倫巴舞》
哈迪 《圖塔圖》
Artists
HK Phil Double Bass Section 港樂低音大提琴小組
George Lomdaridze 林達僑
Jiang Xinlai 姜馨來
Chang Pei-heng 張沛姮
Feng Rong 馮榕
Samuel Ferrer 費利亞
Jeffrey Lehmberg 林傑飛
Philip Powell 鮑爾菲
HKU Composer
Owen Ho 何飛雲

Remarks
Patrons under the age of 8 will not be admitted.
The programme is approximately 1 hour without intermission.
Guests are advised to arrive punctually. No latecomers will be admitted until a suitable break in the programme.
Programmes and artists are subject to change.
The presenter reserves the right to make final decisions on seating arrangement, to deny entry, and reserve all rights of final arbitration in case of dispute.
Co-presented by

Supported by