佛斯特與梅尼可夫:貝多芬小提琴奏鳴曲全集 I
31 MAR 2023 | FRI | 8PM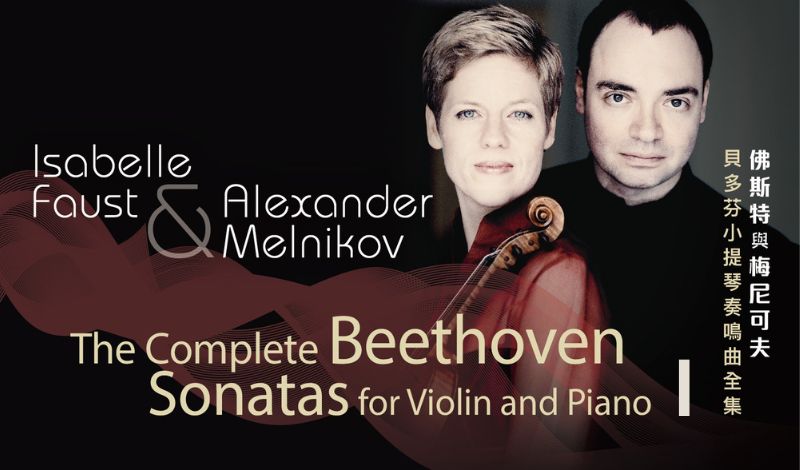 Programme
Sonata for Violin and Piano No. 1 in D major, Op. 12, No. 1
Sonata for Violin and Piano No. 2 in A major, Op. 12, No. 2
Sonata for Violin and Piano No. 3 in E-flat major, Op. 12, No. 3
Sonata for Violin and Piano No. 9 in A major, Op. 47, 'Kreutzer'
"Faust and Melnikov seemed to perform with one nervous system, and their ability to manipulate these infinitesimal silences elevated their performance from great to exquisite." —The Boston Globe
Paganini Competition winner Isabelle Faust returns to Hong Kong with pianist Alexander Melnikov to unveil the interlacing harmonic patterns in Beethoven's 10 sonatas for violin and piano. Presented in three concerts, these lifetime musical testimonies offer the audience a glance through all the ups and downs in Beethoven's life since he established fame at the young age of 27.
As part of HKU MUSE's 10th Anniversary celebration, the complete cycle by Faust and Melnikov, described by the BBC Music Magazine as "the most stimulating and fascinating accounts of the Beethoven violin sonatas in many years", is a musical experience not to be missed.
Biographies
Venue
Grand Hall
Lee Shau Kee Lecture Centre
Centennial Campus
The University of Hong Kong
Admission
For ages 10+
Tickets at art-mate.net starting 5 JAN noon
'MUSE at 10' Package Discount
Save 10% with Early Bird code MUSEat10

(valid until 30 JAN 6PM)

Save 20% for booking of 3-4 concerts
Save 30% for booking of 5-7 concerts
Save 40% for booking of 8 or more concerts
Other Discounts:
Full-time students, citizens aged 60 or above & people with disabilities 50% off
For purchase of each concessionary ticket for people with disabilities, the customer can purchase one ticket at the same concessionary rate for a minder
HKU Student Discount: $50*
With limited quota. Discounts cannot be combined
* $250 & 150 categories only.
Maximum 2 tickets per transaction. Available to current HKU students only. HKU ID required upon purchase and must be presented for entry.
Beethoven Sonata No. 2, Op. 12 (excerpt) - Isabelle Faust & Alexander Melnikov
Remarks
Patrons under the age of 10 will not be admitted.
The programme is approximately 2 hours with an intermission.
Guests are advised to arrive punctually. No latecomers will be admitted until a suitable break in the programme.
Programmes and artists are subject to change.
The presenter reserves the right to make final decisions on seating arrangement, to deny entry, and reserve all rights of final arbitration in case of dispute.
Presented by

Supported by