樂讀村上春樹​
31 OCT 2015 | sat | 7:30PM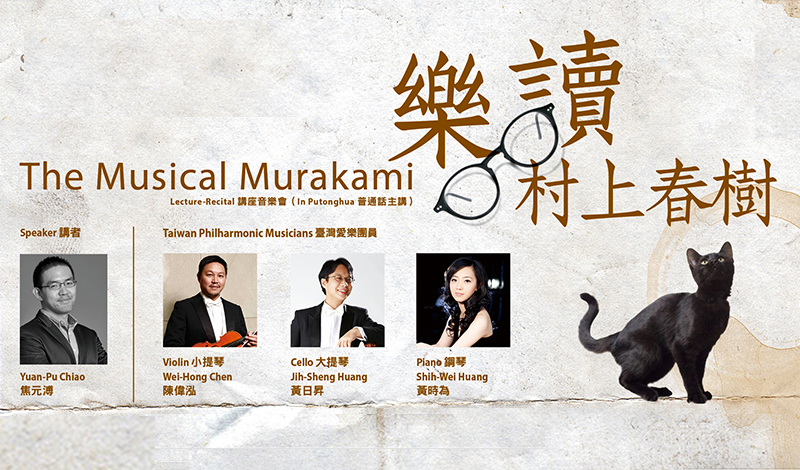 Programme
Lecture-Recital 講座音樂會
(In Putonghua 普通話主講)
BEETHOVEN Piano Trio, Op. 97, Archduke (I. Allegro moderato)
SCHUMANN Selections from Waldscenen
LISZT 'Le mal du pays' from Années de Pèlerinage: Premiére année: Suisse
LISZT Piano Trio, Tristia
「若沒有沉迷於音樂,我可能不會成為小說家。」從爵士咖啡館老闆轉變成專職作家,村上春樹一直沒有離開過音樂,創作時音樂更是必需品。在這場解說音樂會中,著名樂評家焦元溥博士將為大家解開村上春樹的音樂密碼,並由臺灣愛樂團員現場演奏相關作品。曲目包括小說中提到的古典音樂,也包括村上雖未言明、但其實也是和其小說為音樂互文的樂曲,讓喜愛村上的讀者能更深刻地享受小說中的巧妙線索,大家一起「聽文學、讀音樂」!
"Music is an indispensable part of my life." Reading Haruki Murakami's work can feel like flipping through his legendarily expansive record collection, and readers can easily come across countless references to music in his novels. This lecture-recital will highlight Murakami's passion for classical music and feature works from his playlist. Renowned music writer Dr. Yuan-Pu Chiao and musicians from the Taiwan Philharmonic will guide the audience through a literary and musical journey to decipher Murakami's mastery of intertextual references.
主講: 焦元溥 Speaker: Yuan-Pu Chiao
臺灣愛樂團員 Taiwan Philharmonic Musicians
陳偉泓 / 小提琴 Wei-Hong Chen, violin
黃日昇 / 大提琴 Jih-Sheng Huang, cello
黃時為 / 鋼琴 Shih-Wei Huang, piano
Remarks
For ages 6+
Approximately 2 hours without intermission
Guests are advised to arrive punctually.
No latecomers will be admitted until a suitable break in the programme.
Programmes and artists are subject to change.
Presented by

Supported by