清雅頌:呂培原琵琶古琴演奏會
7 DEC 2014 | SUN | 3PM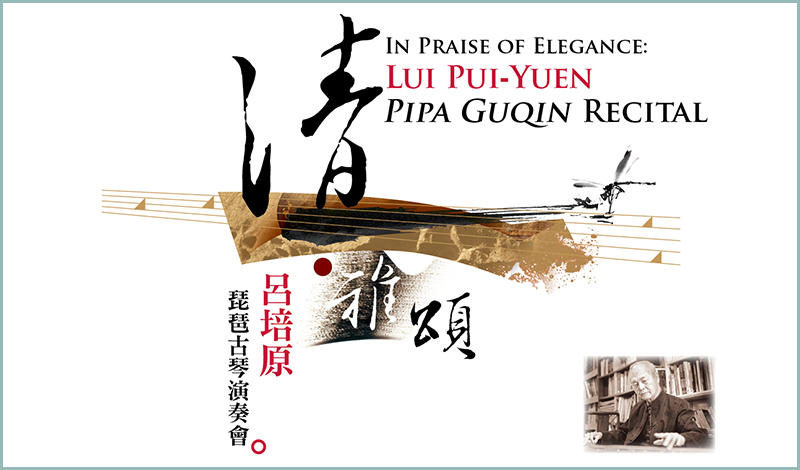 Programme
《飛花點翠》
《塞上曲》
《梅花三弄》
《流水》
《青蓮樂府》
《憶故人》
《高山流水》
《三六》
《月兒高》
《燈月交輝》
Lui Pui-Yuen (呂培原) is one of the most important figures in the Hong Kong Chinese music circle. Being a highly respected pioneer, he is recognized for his seminal influence on the genre. The concert will feature timeless Chinese classical favourites. Lui and his longtime musical friends will take avid and faithful enthusiasts of Chinese music on a trip down memory lane.
Artists
Lui Pui-Yuen, pipa and guqin
Music in Words 樂語融融
​(In Cantonese 粵語主講)
Master Lui Pui-Yuen and the Golden Era of Hong Kong's Soundtrack/Recording Industry
Speakers:
Prof. Yu Siu-wah, Department of Music, CUHK
Mr. Ho Kang-ming
Prof. Chan Hing-yan, Department of Music, HKU
04 DEC 2014 | THU | 7:30PM
Rehearsal Room, LG1/F, Run Run Shaw Tower, HKU
FREE via online registration
Remarks
For ages 6+
Approximately 1 hours without intermission
Guests are advised to arrive punctually.
No latecomers will be admitted until a suitable break in the programme.
Programmes and artists are subject to change.
Presented by

Supported by