德布西講座音樂會II
9 FEB 2015 | MON | 6PM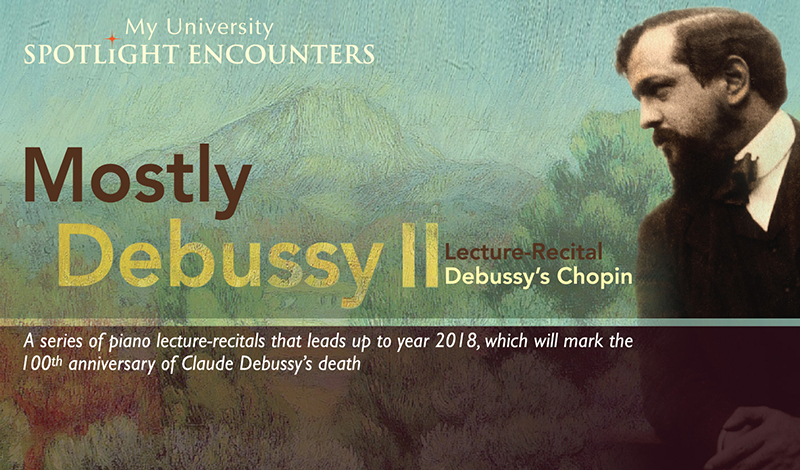 Programme
Lecture-Recital
(In English)
DEBUSSY  Suite bergamasque: Clair de lune
CHOPIN  Etude Op. 25, No. 1, Aeolian Harp
DEBUSSY  Etude retrouvée
DEBUSSY  Pour les arpèges composés
CHOPIN  Etude Op. 25, No. 8
DEBUSSY  Pour les sixtes
CHOPIN  Etude Op. 25, No. 6
DEBUSSY  Les tierces alternées
DEBUSSY  Pour les tierces
"Mostly Debussy" is a series of piano lecture-recitals that leads up to year 2018, which will mark the 100th anniversary of Claude Debussy's death.
During World War I, Debussy agreed to assist his publisher, Auguste Durand, in producing a complete French edition of Chopin's works, offering a substitute for the banned German editions. Revising all of Chopin's studies unquestionably inspired Debussy. This lecture-recital features nine works by Chopin and Debussy, including a rare performance of Debussy's Etude retrouvée, which was first drafted (then eventually abandoned and replaced by Pour les arpèges composés by the composer), but never got published among the final Twelve Studies.
Artist
Lucas Wong, lecturer and pianist
Remarks
For ages 6+
Approximately 1 hours without intermission
Guests are advised to arrive punctually.
No latecomers will be admitted until a suitable break in the programme.
Programmes and artists are subject to change.
Presented by