周善祥鋼琴獨奏會
11 DEC 2022 | SUN | 3PM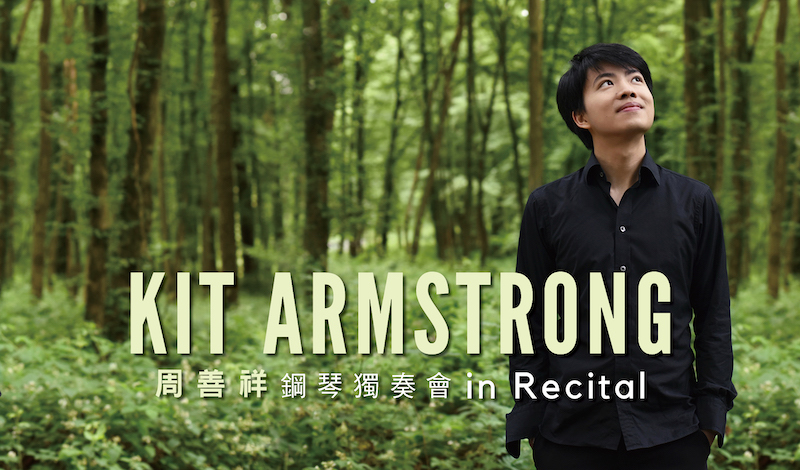 A virtuosic pianist, mathematical genius, and prolific composer, Kit Armstrong is one of a kind who has captivated audiences worldwide with his original approach to music. He also displays remarkable gifts for science and languages, and is a protégé of Alfred Brendel, who ascribes to him "an understanding of the great piano works that combines freshness and subtlety, emotion and intellect". For his Hong Kong Recital Debut, Armstrong offers an intriguing programme with highlights from his multi-award-winning DG debut album dedicated to William Byrd and John Bull, works by Saint-Saëns, Mozart, Bach, and Liszt, as well as his own composition, Études de dessin (2017). 
鋼琴家周善祥不僅技術精湛,他還是數學天才、多產的作曲家。他別具一格的音樂進路舉世矚目,在科學和語言方面亦展露非凡天賦。鋼琴大師布蘭德爾稱許周善祥「對鋼琴經典曲目的理解兼具新意與細膩,情感與智慧」,並收其為入室弟子,至今已逾17年。首度於香港舉辦獨奏會,周善祥為觀眾準備了一套有趣的曲目,既有精選自他為 DG 首度灌錄並屢獲殊榮的《拜爾德、布爾鍵盤音樂》,也有聖桑、莫扎特、巴赫、李斯特的作品,還有他自己的《繪畫練習曲》。
Programme
SAINT-SAËNS Allegro appassionato, Op. 70
MOZART Piano Sonata No. 11 in A major, K. 331
BYRD The Earl of Oxford's March
BYRD The Bells
BULL Melancholy Pavan
BULL Fantasia
KIT ARMSTRONG Études de dessin
J.S. BACH Chromatic Fantasia and Fugue in D minor, BWV 903
LISZT Variations on the Cantata Weinen, Klagen, Sorgen, Zagen (after J.S. Bach)
Venue
Grand Hall
Lee Shau Kee Lecture Centre
Centennial Campus
The University of Hong Kong
Admission
For ages 8+
Tickets at art-mate.net starting 3 NOV noon
Full-time students, citizens aged 60 or above & people with disabilities 50% off
For purchase of each concessionary ticket for people with disabilities, the customer can purchase one ticket at the same concessionary rate for a minder
HKU Student Discount: $50*
With limited quota. Discounts cannot be combined
* $180 category only. HKU Student ID required upon purchase, maximum 2 tickets per transaction
Photo Gallery
Remarks
Patrons under the age of 8 will not be admitted.
The programme is approximately 1.5 hours with an intermission.
Guests are advised to arrive punctually. No latecomers will be admitted until a suitable break in the programme.
Please show the QR code in your ticket confirmation email for admission.
The presenters reserve the right to make final decisions on seating arrangement.
Programmes and artists are subject to change.
Admission
Except for exempted persons*, all concert-goers are required to use the "LeaveHomeSafe" app to scan the venue QR code before entering the venue.
Please present an electronic version or a paper copy of your COVID-19 vaccination record for admission. For the latest vaccination requirements of the "Vaccine Pass", please visit HKU's COVID-19 Info Hub and the Government's COVID-19 Thematic Website.
A temperature check will be conducted upon entry. Anyone with fever or respiratory symptoms should seek medical advice and will not be admitted.
Guests are required to wear masks throughout the event.
Please use the disinfectant dispensers and always maintain social distancing.
Due to social distancing requirements, some seats in the venue will be left empty. Please only take your assigned seat as stated on the ticket.
The presenters reserve the right to deny entry or to require anyone to leave if, in their opinion, the above-mentioned instructions have not been observed, and reserve all rights of final arbitration in case of dispute.
* Persons aged below 12 or aged 65 or above and those with disabilities that render use of the app difficult. All exempted persons are required to register their names, their contact numbers, and the date and time of their visits. They are also required to present relevant identification documents for verification at the request of the staff on-site during registration.
Presented by

Supported by