The University of Hong Kong Bulletin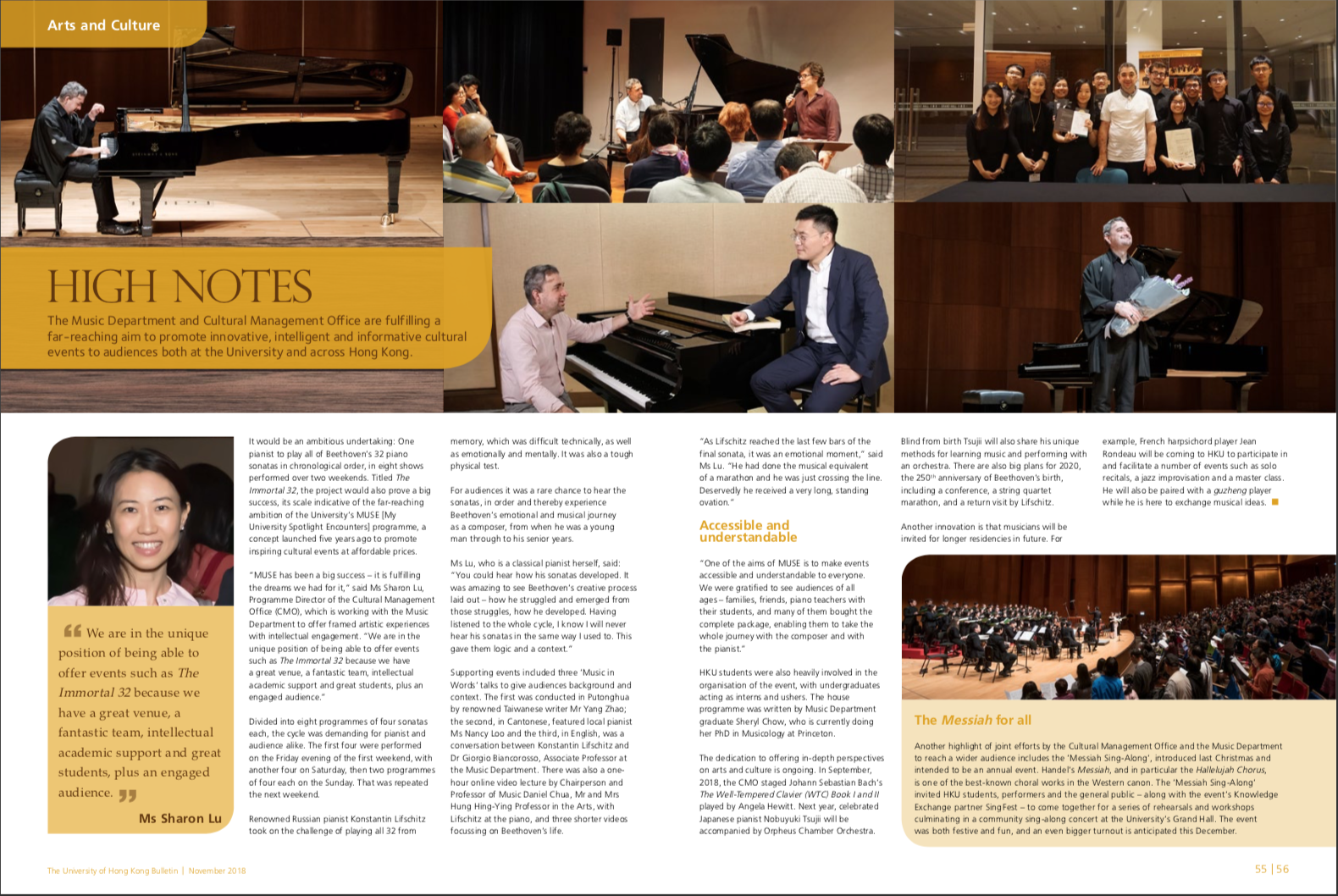 The Music Department and Cultural Management Office are fulfilling a far-reaching aim to promote innovative, intelligent and informative cultural events to audiences both at the University and across Hong Kong.
"We are in the unique position of being able to offer events such as The Immortal 32 because we have a great venue, a fantastic team, intellectual academic support and great students, plus an engaged audience. " Ms Sharon Lu
It would be an ambitious undertaking: One pianist to play all of Beethoven's 32 piano sonatas in chronological order, in eight shows performed over two weekends. Titled The Immortal 32, the project would also prove a big success, its scale indicative of the far-reaching ambition of the University's MUSE [My University Spotlight Encounters] programme, a concept launched five years ago to promote inspiring cultural events at affordable prices.
"MUSE has been a big success – it is fulfilling the dreams we had for it," said Ms Sharon Lu, Programme Director of the Cultural Management Office (CMO), which is working with the Music Department to offer framed artistic experiences with intellectual engagement. "We are in the unique position of being able to offer events such as The Immortal 32 because we have a great venue, a fantastic team, intellectual academic support and great students, plus an engaged audience."
Divided into eight programmes of four sonatas each, the cycle was demanding for pianist and audience alike. The first four were performed on the Friday evening of the first weekend, with another four on Saturday, then two programmes of four each on the Sunday. That was repeated the next weekend.
Renowned Russian pianist Konstantin Lifschitz took on the challenge of playing all 32 from
memory, which was difficult technically, as well as emotionally and mentally. It was also a tough physical test.
For audiences it was a rare chance to hear the sonatas, in order and thereby experience Beethoven's emotional and musical journey as a composer, from when he was a young man through to his senior years.
Ms Lu, who is a classical pianist herself, said: "You could hear how his sonatas developed. It was amazing to see Beethoven's creative process laid out – how he struggled and emerged from those struggles, how he developed. Having listened to the whole cycle, I know I will never hear his sonatas in the same way I used to. This gave them logic and a context."
Supporting events included three 'Music in Words' talks to give audiences background and context. The first was conducted in Putonghua by renowned Taiwanese writer Mr Yang Zhao; the second, in Cantonese, featured local pianist Ms Nancy Loo and the third, in English, was a conversation between Konstantin Lifschitz and Dr Giorgio Biancorosso, Associate Professor at the Music Department. There was also a one- hour online video lecture by Chairperson and Professor of Music Daniel Chua, Mr and Mrs Hung Hing-Ying Professor in the Arts, with Lifschitz at the piano, and three shorter videos focussing on Beethoven's life.
"As Lifschitz reached the last few bars of the final sonata, it was an emotional moment," said Ms Lu. "He had done the musical equivalent of a marathon and he was just crossing the line. Deservedly he received a very long, standing ovation."
Accessible and understandable
"One of the aims of MUSE is to make events accessible and understandable to everyone. We were gratified to see audiences of all ages – families, friends, piano teachers with their students, and many of them bought the complete package, enabling them to take the whole journey with the composer and with the pianist."
HKU students were also heavily involved in the organisation of the event, with undergraduates acting as interns and ushers. The house programme was written by Music Department graduate Sheryl Chow, who is currently doing her PhD in Musicology at Princeton.
The dedication to offering in-depth perspectives on arts and culture is ongoing. In September, 2018, the CMO staged Johann Sebastian Bach's The Well-Tempered Clavier (WTC) Book I and II played by Angela Hewitt. Next year, celebrated Japanese pianist Nobuyuki Tsujii will be accompanied by Orpheus Chamber Orchestra.
Blind from birth Tsujii will also share his unique methods for learning music and performing with an orchestra. There are also big plans for 2020, the 250th anniversary of Beethoven's birth, including a conference, a string quartet marathon, and a return visit by Lifschitz.
Another innovation is that musicians will be invited for longer residencies in future. For
example, French harpsichord player Jean Rondeau will be coming to HKU to participate in and facilitate a number of events such as solo recitals, a jazz improvisation and a master class. He will also be paired with a guzheng player while he is here to exchange musical ideas.
The Messiah for all
Another highlight of joint efforts by the Cultural Management Office and the Music Department to reach a wider audience includes the 'Messiah Sing-Along', introduced last Christmas and intended to be an annual event. Handel's Messiah, and in particular the Hallelujah Chorus, is one of the best-known choral works in the Western canon. The 'Messiah Sing-Along' invited HKU students, performers and the general public – along with the event's Knowledge Exchange partner SingFest – to come together for a series of rehearsals and workshops culminating in a community sing-along concert at the University's Grand Hall. The event was both festive and fun, and an even bigger turnout is anticipated this December.