劍橋大學聖約翰學院合唱團
29 MAR 2015 | SUN | 3PM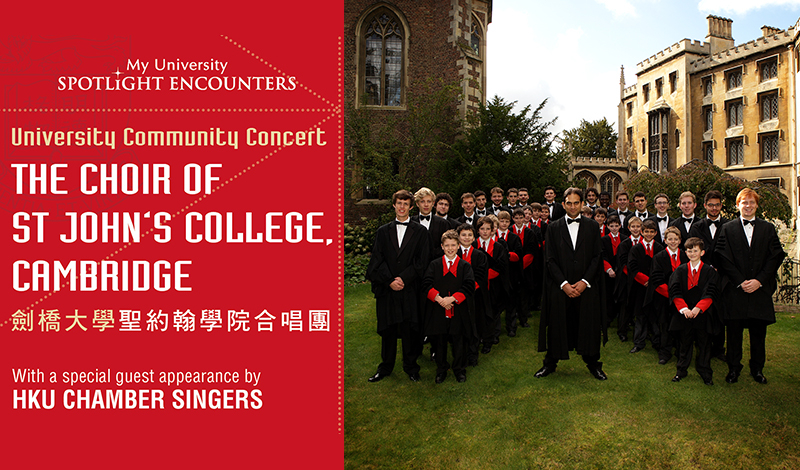 Programme
ROSSINI  O salutaris hostia
DOVE  Gloria in excelsis Deo (Missa Brevis)
FRANCK  Panis Angelicus
MOUTON  Nesciens mater
BACH  Ertödt uns durch dein' Güte
HARVEY  Come, Holy Ghost
TALLIS  Salvator mundi
VIADANA  Exsultate justi
TAVENER  Song for Athene
LONG  Vigilate
PARRY  Hear my words, ye people
"Delicate, controlled and beautiful" – Musica Antiqua 
The Choir of St John's College, Cambridge, is one of the finest collegiate choirs in the world, known and loved by millions from its broadcasts, concert tours, and over 90 recorded albums. Founded in the 1670s, the Choir is heralded for its rich, warm, and distinctive singing tone, its expressive interpretations, and its diverse vocal repertoire. In this concert, the Choir's director, Andrew Nethsingha, will introduce the works, and the Choir will be joined on stage for the finale by the HKU Chamber Singers.
The Choir regularly performs in high-profile venues around the UK, with orchestras and ensembles including the Royal Philharmonic Orchestra, the English Chamber Orchestra, and the Philharmonia Orchestra. Its busy international touring schedule includes the USA, Canada, Brazil, South Africa, Japan, Australia, and Europe. In 2009 the Choir signed to Chandos Records and its first eight CDs on the label – which span music from across 500 years – have garnered international critical acclaim.
Artists
The Choir of St John's College, Cambridge
Remarks
For ages 6+
Approximately 2 hours with an intermission
Guests are advised to arrive punctually.
No latecomers will be admitted until a suitable break in the programme.
Programmes and artists are subject to change.
Presented by

Supported by