聚焦管弦:大提琴
13 JUN 2021 | SUN | 3PM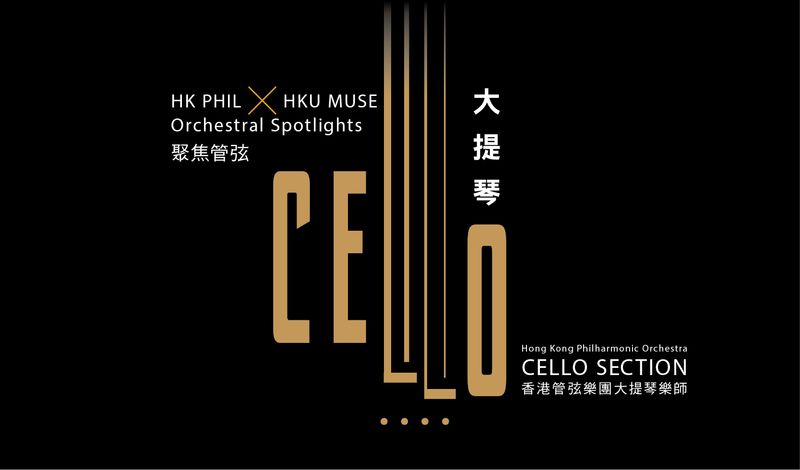 港大繆思樂季 x  港樂:「聚焦管弦」系列
HKU MUSE x HK Phil: Orchestral Spotlights
The Hong Kong Philharmonic Orchestra (HK Phil) in collaboration with HKU MUSE presents a chamber music series spotlighting different sections of the orchestra. This programme features the HK Phil Cello Section, and opens with Dvořák's Rondo followed by the Prelude to Wagner's Tristan und Isolde. The remainder of the programme is as diverse as it is exciting, with music ranging from a Bach Cello Suite movement (arranged for cello ensemble) to the world premiere of Two Miniatures by HKU composer Austin Leung.
Along the way are rare pieces by the 18th century French composer Barrière, the 19th century German cellist Klengel, the great 20th century Argentinean tango composer Piazzolla, and the 21st century American educator and composer Marsha Shapiro. Come experience an exhilarating concert showcasing some amazing cello music!
香港管弦樂團(港樂)聯乘香港大學繆思樂季(HKU MUSE),呈獻一系列現代室樂音樂會,聚焦樂團不同聲部。今次主角港樂大提琴小組,為大家帶來了一套如萬花筒般璀璨的節目,先以德伏扎克輪旋曲及華格納《崔斯坦與伊索爾德》前奏曲啟程;還演奏從巴赫的大提琴組曲(特別為大提琴小組改編)到香港大學作曲家梁騫仁的世界首演作品。
多首難得演奏的曲目亦陸續登場:18世紀法國作曲家巴西爾、19世紀德國大提琴家克萊格爾、20世紀阿根廷探戈大師皮亞佐拉和21世紀美國教育家及作曲家夏佩羅的作品。這個音樂會將讓您陶醉於大提琴輕柔流暢的音色,而它極高的可塑性將教您驚艶。
Programme (updated)
WAGNER (arr. BIRCHALL) Tristan und Isolde: Prelude
DVOŘÁK (arr. DEŠPALJ) Rondo
BARRIÈRE Sonata no. 10 for two cellos
BACH (arr. HAMPTON) Cello Suite no. 6: Sarabande
KLENGEL Theme and Variations for four cellos, op. 28
Marsha SHAPIRO Point Counterpoint 
Austin LEUNG Two Miniatures (World Premiere)
PIAZZOLLA Oblivion
華格納(比爾查爾改編)《崔斯坦與伊索爾德》前奏曲
德伏扎克(迪斯帕利改編)輪旋曲
巴西爾 第十大提琴奏鳴曲
巴赫(漢普敦改編) 第六大提琴組曲:薩拉班德舞曲
克萊格爾 主題與變奏曲,大提琴四重奏,op. 28
夏佩羅 《點.對位》
梁騫仁 《兩首小品》(世界首演)
皮亞佐拉 《遺忘》
(The advertised Libertango by Piazzolla will not be performed. The remaining repertoire remains unchanged with an updated order. Ticket-holders may continue to use their tickets for admission to the updated performance.
音樂會原定曲目皮亞佐拉的《自由探戈》將不會演出,其餘曲目則維持不變,並以更新的次序作表演。音樂會持票人士可憑原有門票入場,欣賞已更新的節目。)

Artists
HK Phil Cello Section 港樂大提琴小組
Richard Bamping 鮑力卓
Fang Xiaomu 方曉牧
Dora Lam 林穎
Chan Ngat Chau 陳屹洲
Chen Yi-chun 陳怡君
Timothy Frank 霍添
Anna Kwan Ton-an 關統安
Tae-mi Song 宋泰美
Yalin Song 宋亞林


HKU Composer
Austin Leung 梁騫仁


Remarks
Patrons under the age of 8 will not be admitted.
The programme is approximately 1 hour without intermission.
Guests are advised to arrive punctually. No latecomers will be admitted until a suitable break in the programme.
Please show the QR code in your confirmation email for admission.
Due to social distancing requirements, some seats in the Grand Hall will be left empty. Please only take your assigned seat as stated on the ticket.
A temperature check will be conducted upon entry. Anyone with fever or respiratory symptoms should seek medical advice and will not be admitted.
Hand sanitising stations are available at the foyer.
Guests are required to wear masks throughout the event.
Programmes and artists are subject to change.
Co-presented by

Supported by