愛的禮讚:皮雷格迪恩及威格諾斯
21 MAR 2020 | SAT | 8PM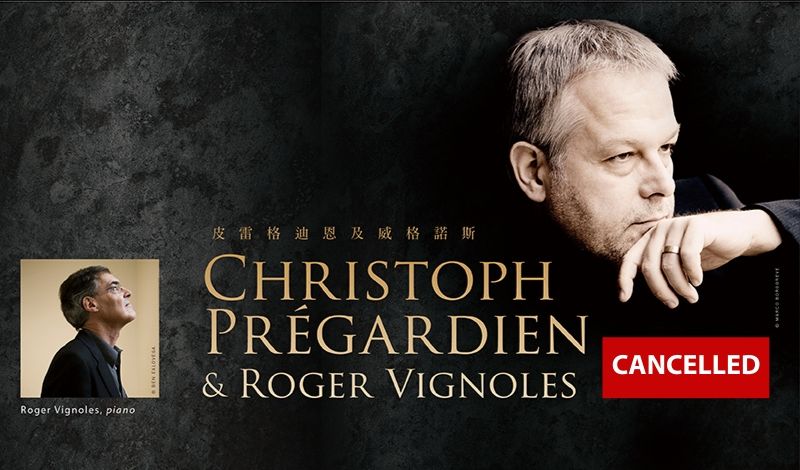 **CONCERT CANCELLATION**
In light of the COVID-19 outbreak, the concert "Of Love and Beloved: Christoph Prégardien & Roger Vignoles" on 21 MAR will be cancelled. Detailed refund arrangements will be sent to ticket holders in due course. Thank you for your support and understanding.
受新型冠狀病毒疫情影響,原定於3月21日舉行的「愛的禮讚:皮雷格迪恩及威格諾斯」音樂會將會取消。我們會儘快透過電郵通知已購票人仕有關退票詳情。謝謝您的體諒與支持。
Programme
This event is part of Beethoven Vision—2020
BEETHOVEN An die ferne Geliebte
SCHUBERT Rellstab-Lieder from Schwanengesang
Intermission
SCHUMANN Dichterliebe
Requited love, or the absence of it, remains a dominant muse for composers. Come and hear a performance by celebrated tenor Christoph Prégardien, accompanied by Roger Vignoles, of three song cycles of love, loss, and yearning. Beethoven expresses regret and acceptance in his song cycle An die ferne Geliebte. Schubert laments rejected love in the yearning melodies of his Rellstab-Lieder from Schwanengesang. And in Dichterliebe, Schumann depicts a story of love and betrayal set to Heinrich Heine's poems.
Artists
Christoph Prégardien
,
tenor
Roger Vignoles, piano
【CANCELLATION】Music in Words with Christoph Prégardien & Roger Vignoles
(In English)
Moderator: Prof. Giorgio Biancorosso, Department of Music, HKU
20 MAR 2020 | FRI | 7:15PM
Rehearsal Room, LG1/F, Run Run Shaw Tower, HKU
Venue
Grand Hall
Lee Shau Kee Lecture Centre
Centennial Campus
The University of Hong Kong
Admission
**This programme has been cancelled**
Schubert Nacht und Träume - Christoph Prégardien and Ulrich Eisenlohr
Remarks
Patrons under the age of 12 will not be admitted.
Approximately 90 minutes with an intermission
Guests are advised to arrive punctually.
No latecomers will be admitted until a suitable break in the programme.
Programmes and artists subject to change
Presented by
Supported by