融冷光:挪威1B1樂集
21 OCT 2016 | FRI | 8PM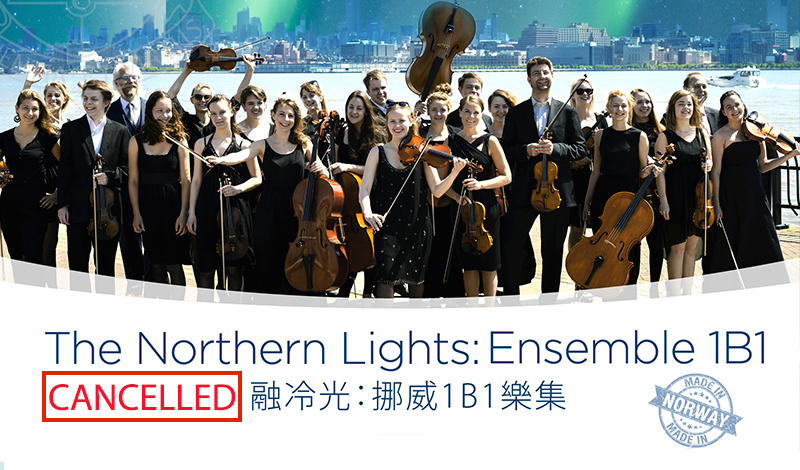 **THIS PERFORMANCE HAS BEEN CANCELLED**
Programme
Alternating movements from:
VIVALDI  The Four Seasons
GRIEG Holberg Suite, Op. 40
PIAZZOLLA The Four Seasons of Buenos Aires
Discover the direction classical music is taking with the Norwegian Grammy-winning string ensemble 1B1. The ensemble, "representing an outstanding vision of how to make classical music appear young, fresh and juicy" (Benjamin Schmid), was founded in 2008 by visionary violinist Jan Bjøranger. It exudes youth, quality, and enthusiasm. It unites artists teaching at the University of Stavanger, their most accomplished students, and members of the distinguished Stavanger Symphony Orchestra. Together, the ensemble blends different genres in unexpected ways, with an ambition of changing the way classical music is performed and listened to.
In their Hong Kong debut, these brilliant and progressive musicians will offer a new sound to works by Vivaldi, Grieg, and Piazzolla. Be ready to be inspired by one of the most exciting orchestras of our time – there's a world of discovery coming your way!
Artists
Venue
Grand Hall
Lee Shau Kee Lecture Centre
Centennial Campus
The University of Hong Kong
Admission
**THIS PERFORMANCE HAS BEEN CANCELLED**
Grieg's Holberg Suite - Prelude
Remarks
For ages 6+
Approximately 1.5 hours with an intermission
Guests are advised to arrive punctually.
No latecomers will be admitted until a suitable break in the programme.
Programmes and artists are subject to change.
Presented by

Supported by