如歌若詩:盧岡斯基鋼琴演奏會
26 MAR 2017 | SUN | 3PM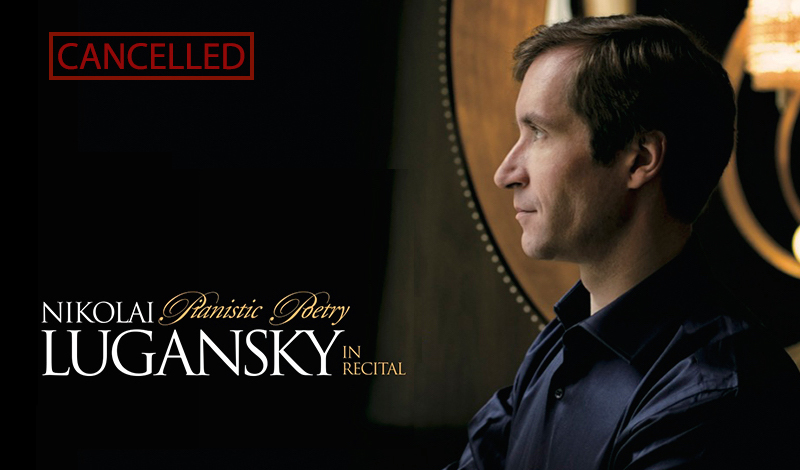 **THIS PERFORMANCE HAS BEEN CANCELLED**
We regretfully announce that "Pianistic Poetry: Nikolai Lugansky in Recital", originally scheduled to take place on 26 March 2017 (Sun) at HKU's Grand Hall, will be cancelled.
A message from Nikolai: "I'm so sorry for not being able to come to HKU to play my recital because of current health problems. Especially as this was my first time back in Hong Kong since 1994, soon after the 10th Tchaikovsky Competition! I had such nice impressions and feelings about this wonderful city and its music fans, so I've always wanted to play here again. It's such a pity I cannot come this time, but I hope to find another date to meet with the Hong Kong classical music audience as soon as possible!"
Please accept our apologies for the disappointment and inconvenience caused. Tickets purchased will be refunded. Thank you for your understanding and we appreciate your continued support!
鋼琴家盧岡斯基因身體不適未能赴港,原訂2017年3月26日(星期日)於香港大學舉行的「如歌若詩:盧岡斯基鋼琴演奏會」將會取消。為您帶來失望及造成不便,我們深感抱歉!所有已購票人士可循以下方式辦理退款手續。衷心感謝您的支持及體諒!
Programme
TCHAIKOVSKY The Seasons, Op. 37b
CHOPIN Polonaise-fantasie in A-flat major, Op. 61
CHOPIN Mazurka in B major, Op. 56, No. 1
CHOPIN Mazurka in D-flat major, Op. 30, No. 3
CHOPIN Mazurka in A-flat major, Op. 41, No. 4
CHOPIN Mazurka in C-sharp minor, Op. 50, No. 3
CHOPIN Barcarolle in F-sharp major, Op. 60
CHOPIN Ballade No. 4 in F minor, Op. 52
'…a pianist who has absolute intellectual control, staggering technical ability, delicate poeticism and a piratical spirit all in magical harmony' (The Herald, November 2016)
Having just made his highly anticipated debut with the Berliner Philharmoniker, Russian pianist Nikolai Lugansky comes to Hong Kong with a recital programme of Tchaikovsky and Chopin. Winner of the 10th International Tchaikovsky Competition, Lugansky is known for his elegant virtuosity and blazing energy, 'finely complemented with an innate sense of poetry' (Gramophone). This sense of poetry makes him a perfect interpreter of Tchaikovsky and Chopin's music, taking us on a sensational journey through the seasons, singing with his fingers the music written by the poet of the piano.
Venue
Grand Hall
Lee Shau Kee Lecture Centre
Centennial Campus
The University of Hong Kong
Admission
**THIS PERFORMANCE HAS BEEN CANCELLED**
Lugansky playing Chopin Ballade No. 4, Op. 52
Remarks
For ages 6+
Approximately 2 hours with an intermission
Guests are advised to arrive punctually.
No latecomers will be admitted until a suitable break in the programme.
Programmes and artists are subject to change.
Presented by

Supported by