德布西講座音樂會 III:德布西晚期的幽默
5 MAY 2016 | THU | 6:30PM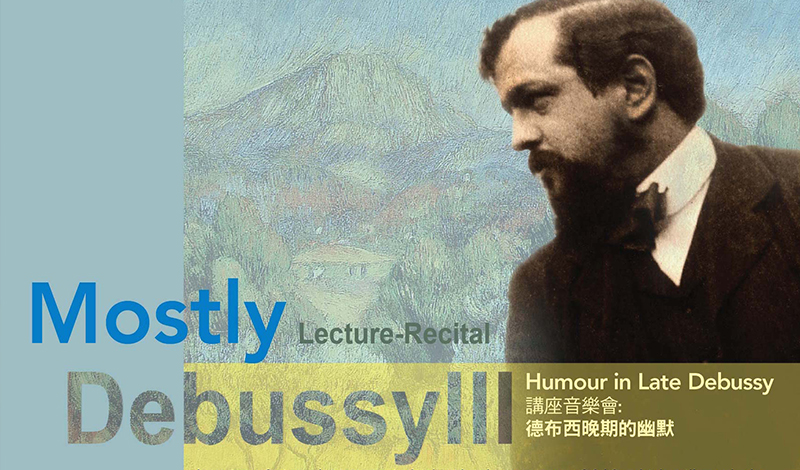 Programme
DEBUSSY Général Lavine – eccentric
CHABRIER Bourrée fantasque
DEBUSSY Pour les notes répétées
DEBUSSY Pour les degrés chromatiques
DEBUSSY Minstrels
CHABRIER Ballabile
CHABRIER Trois valses romantiques: Valse II
DEBUSSY Pour les octaves
CHABRIER
*Selections from Souvenirs de Munich
Quadrille on themes from Tristan und Isolde
I. Pantalon
III. Poule
IV. Pastourelle
*Piano four hands
'Mostly Debussy' is a series of piano lecture-recitals that leads up to year 2018 to mark the 100th anniversary of Claude Debussy's death. In this third event, Lucas Wong, assistant professor of piano in Soochow University School of Music, will be exploring a humorous side of Debussy to the full. While tracing the brand of humour in the composer's late period, Lucas will also uncover hidden treasures from a lesser-known composer in the name of Emmanuel Chabrier. In this lecture-recital, three of Debussy's Twelve Studies will be juxtaposed with the works by Chabrier, with a guest appearance by pianist Timothy Kwok. Join us and discover the playfulness in French music!
Artist
Lucas Wong, Piano
Timothy Kwok, Piano
Remarks
For ages 6+
Approximately 1 hours without intermission
Guests are advised to arrive punctually.
No latecomers will be admitted until a suitable break in the programme.
Programmes and artists are subject to change.
Presented by

Associated Project