字裏行間貝多芬
26 APR 2020 | SUN | 3PM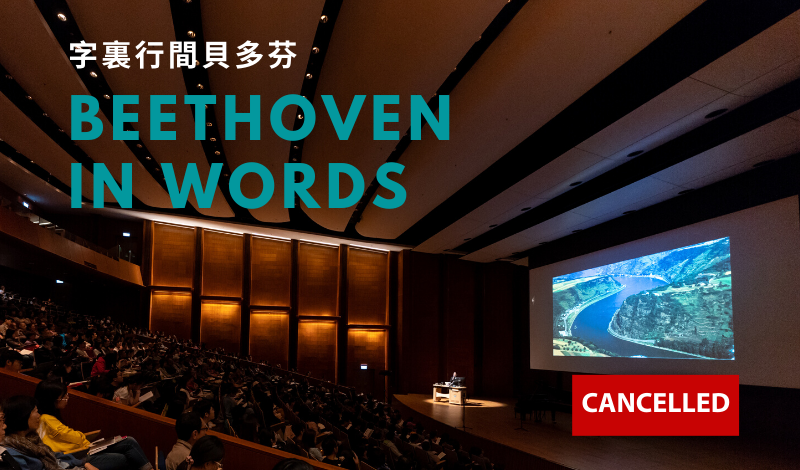 **CONCERT CANCELLATION**
In light of the COVID-19 outbreak, the "Beethoven in Words" lecture-recital on 26 APR will be cancelled. Thank you for your support and understanding.
受新型冠狀病毒疫情影響,原定於4月26日舉行的「字裏行間貝多芬」講座音樂會將會取消。謝謝您的體諒與支持。

Programme
Listening Between the Lines VI
「音樂與文學對話」系列 VI
(In Putonghua 普通話主講)
文字總能激發音樂想像,貝多芬也不例外。當他的創作成為經典,又成為其他藝術家的靈感來源。這場講座音樂會將探討貝多芬與文學的關係,探索他如何為戲劇譜曲,並解析作曲家與文學家如何引用貝多芬,探討托爾斯泰、福斯特、托瑪斯.曼與昆德拉的小說技法,以及《克羅采奏鳴曲》、《霍華德莊園》、《浮士德博士》與《生命中不能承受之輕》所呈現的貝多芬創作,看音樂與文學如何互相對話,貝多芬為何是絕無僅有的貝多芬。
Works of literature never fail to spark imagination, even influencing the works of musical genius Beethoven. In turn, his creations have become sources of inspiration for many writers, including Leo Tolstoy, E.M. Forster, Thomas Mann, and Milan Kundera. This lecture-recital will delve into the composer's creative relationship with literature. Join us as we ponder how and why "there will continue to be thousands more, but there is only one Beethoven.
Artists
焦元溥 / 主講 Yuan-Pu Chiao, speaker
林慈音 / 女高音 Grace Lin, soprano
盧易之 / 鋼琴 Yi-Chih Lu, piano
港樂四重奏 HKPhil Quartet:
王敬 / 小提琴 Jing Wang, violin
趙瀅娜 / 小提琴 Zhao Yingna, violin
凌顯祐 / 中提琴 Andrew Ling, viola
鮑力卓 / 大提琴 Richard Bamping, cello
Remarks
Patrons under the age of 8 will not be admitted.
Approximately 2 hours without intermission
Guests are advised to arrive punctually.
No latecomers will be admitted until a suitable break in the programme.
Programmes and artists subject to change
Presented by
Supported by