披頭四與武滿徹的結他
20 NOV 2020 | FRI | 6:30PM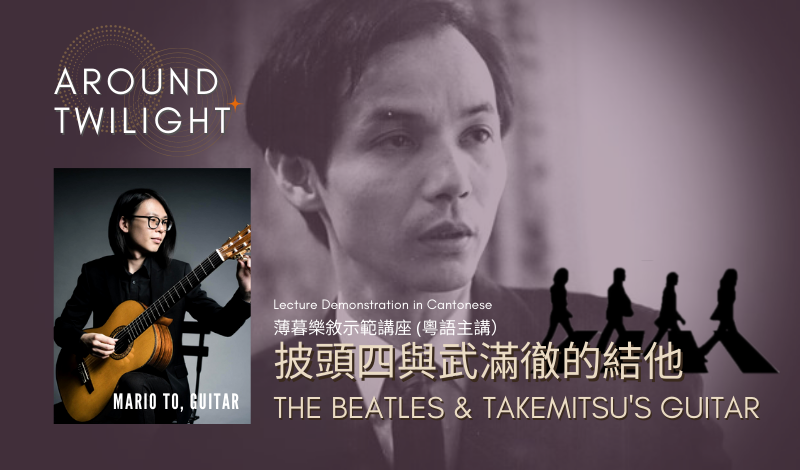 Programme
武滿徹《對開頁》
武滿徹《在林中》
連儂–麥卡尼《昨日》(武滿徹編曲)
TAKEMITSU Folios
TAKEMITSU In the Woods
LENNON–McCARTNEY Yesterday (arr. Takemitsu)
云云樂器中,結他是武滿徹的至愛,對古典結他手來說,這位日本大師終其一生為結他創作的一系列作品有如上天的恩賜,計有獨奏、室樂、改編曲、電影音樂及三首協奏曲。結他好手杜子駿與陳慶恩教授將透過三首樂曲,闡釋武滿徹結他作品的獨特音響天地,包括1974年令他聲名大噪的《對開頁》、1977年改編的披頭四樂曲《昨日》,以及1995年離世前三個月完成的最後作品《在林中》。
The guitar is Toru Takemitsu's favourite instrument, for which his oeuvre is like a gift from heaven for classical guitarists, comprising solos, arrangements, chamber works, film music, and three concertos. Young guitarist Mario To will join Professor Chan Hing-yan to illustrate the Japanese master's unique guitar soundscape through three works: Folios (1974), the very first piece that made Takemitsu a formidable guitar composer; an arrangement of The Beatles' Yesterday (1977); and In the Woods (1995), Takemitsu's very last composition, completed three months before his death.
Artists
杜子駿/結他 Mario To, guitar 
陳慶恩教授/主持 Prof. Chan Hing-yan, host
Remarks
Patrons under the age of 8 will not be admitted.
The programme is approximately 1 hour without intermission.
Guests are advised to arrive punctually. No latecomers will be admitted until a suitable break in the programme.
Please show the QR code in your confirmation email for admission.
Due to social distancing requirements, some seats in the Grand Hall will be left empty. Please only take your assigned seat as stated on the ticket.
A temperature check will be conducted upon entry. Anyone with fever or respiratory symptoms should seek medical advice and will not be admitted.
Hand sanitising stations are available at the foyer.
Guests are required to wear masks throughout the event.
Programmes and artists are subject to change.
Presented by

Supported by