柏林巴洛克獨奏者樂團與梅第揚
7 OCT 2023 | SAT | 3:30PM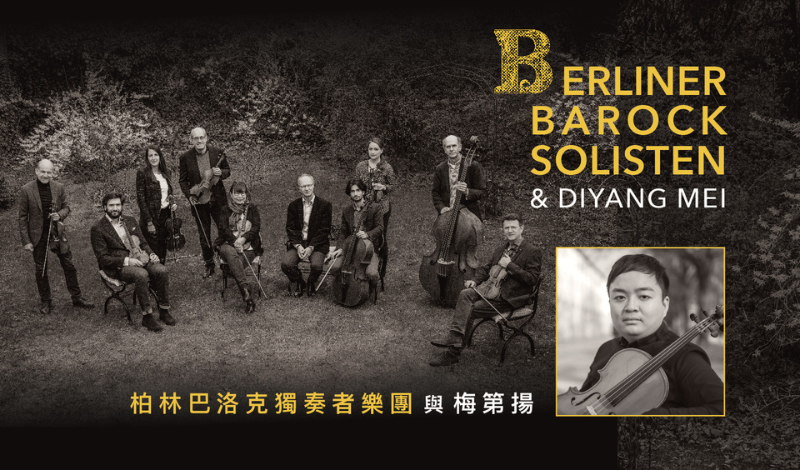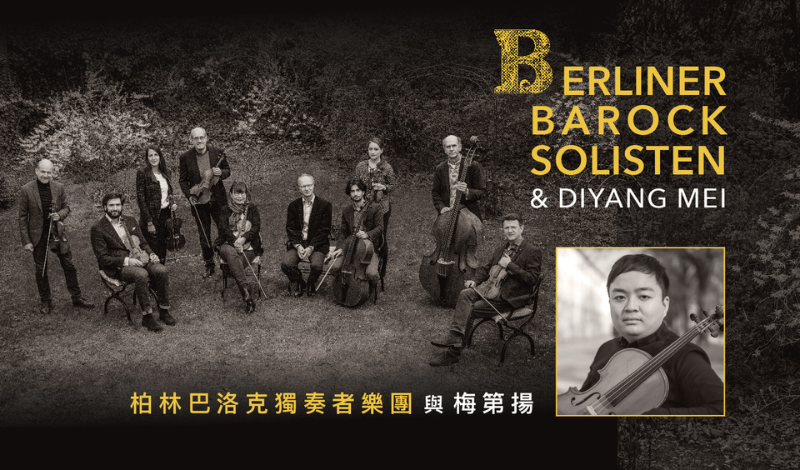 Programme
TELEMANN Concerto in G major for Viola, Strings, and Basso Continuo, TWV 51:G9
J.C.F. BACH Sinfonia in D minor, WFV I/3
J.S. BACH Brandenburg Concerto No. 3 in G major, BWV 1048 (early version)
ROLLA Concertino in E-flat major for Viola and Strings, BI 328+
GALLO Sonata No. 12 for Strings in G minor, 'La Follia'
PAGANINI Sonata per la grand viola
+Updated
Eight years after Berliner Barock Solisten graced the Grand Hall stage with the Complete Brandenburg Concertos, our friends return to HKU in October with Diyang Mei, First Principal Viola of the Berliner Philharmoniker since 2022 and the first-ever Chinese member of the orchestra in its 141-year history. This time, the celebrated Baroque ensemble will present a selection of luminous Italian and German works. The programme also features Diyang Mei's performance of three concertos by Telemann, Rolla, and Paganini in one evening.
由世界頂尖的柏林愛樂樂手所組成的柏林巴洛克獨奏者樂團,繼八年前來港呈獻巴赫《布蘭登堡協奏曲》全集,今年十月將重臨繆思樂季舞台。這次更將聯同柏林愛樂成立141年來首位中國音樂家、第一中提琴首席梅第揚,為觀眾帶來一系列層次鮮明的意大利及德國巴洛克經典作品,包括泰利文、羅拉和帕格尼尼的三首中提琴協奏曲。
Artists
Berliner Barock Solisten
Diyang Mei, solo viola
Biographies
Venue
Grand Hall
Lee Shau Kee Lecture Centre
Centennial Campus
The University of Hong Kong
Admission
For ages 10+
Tickets at art-mate.net starting 20 JUL noon
2023/24 Fall Season Package Discount
Not applicable to events at $20 (admin fee)
Save 10% for booking of 2 concerts
Save 15% for booking of 3 or more concerts
Other Discounts:
Full-time students, citizens aged 60 or above & people with disabilities 50% off
For purchase of each concessionary ticket for people with disabilities, the customer can purchase one ticket at the same concessionary rate for a minder
HKU Student Discount: $50* (1 ticket per performance)
With limited quota. Discounts cannot be combined
* Applicable to $260 and $180 categories only.
Available to current HKU students only. HKU ID required upon purchase and must be presented for entry.
Remarks
Patrons under the age of 10 will not be admitted.
The programme is approximately 2 hours with an intermission.
Guests are advised to arrive punctually. No latecomers will be admitted until a suitable break in the programme.
Programmes and artists are subject to change.
The presenter reserves the right to make final decisions on seating arrangement, to deny entry, and reserve all rights of final arbitration in case of dispute.
Presented by

Supported by