Virtuosic Promenade: Khatia Buniatishvili in Recital
By Josiah Ng
20 MAR 2016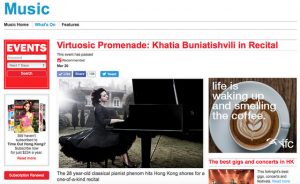 The history of the piano has its lions' share of imposing virtuosos, more than capable of playing ten notes where there are two. Mindblowing technique aids these stars in the pursuit of their art, and fans turn out in droves to see the wall of sound at work.
This is but a surface description of the technical and musical force that is pianist Khatia Buniatishvili, set to arrive at the Fragrant Harbour to give Hong Kong a taste of her prowess. The 28 year-old pianist's youth belies her confident touch and complete mastery of her instrument. We sit down with Khatia herself to discuss her music, her relationship to celebrated pianist and mentor Martha Argerich, as well as her Modest Mussorgsky programme.
I read that your mother and sister played huge roles in early years as a musician. How did they impact you? What were the biggest lessons you learnt from them? What were their greatest gifts to you?
My mother presented the piano to my sister and me. My sister is one year older so she went to college of art one year earlier. My sister was my muse, my mother my mentor and source of strength. From my mother I've heard many times: whatever happens, stay free in your mind. My sister always spoiled me with herattention and love. I can say the same about my father. I'm lucky to have a family who ask of me only one thing- to be happy.
There are also marked similarities between your playing and the playing of Martha Argerich, and Argerich herself named you as her successor. What's your relationship with Argerich, and what does that kind of praise mean to you?
I'm always happy to hear compliments from her. I'm also happy when people sometimes compare me to her. She was an idol for me when I was teenager because in my opinion she was a symbol of 'musical feminism'. I still admire her natural, authentic and unique gift. Now, knowing her quite well personally, I admire her also as a person as she really is an incredibly generous and noble human being.
Your blazing, fiery technique and performance have been met with mixed reviews, what is your response to the negative comments? What would you say to those reviewers, right now if you had the chance?
I would say that music and arts are subjective. There is no general truth but only personal [truth] in the arts. And the only truth that matters to me is my truth as I have to be sincere to composer, public and myself.
Who are your big musical influences? Who do you enjoy playing the most?
Martha Argerich, Rachmaninoff, Gould, Richter. My professors, Gizy Amirejibi and Oleg Maisenberg. My mother. I love playing wherever I feel love.
What is the process like for you in putting together a programme? What are the things you consider, and what are the questions you ask yourself?
A concert – unlike recording in the studio – is something very spontaneous and improvised. Often because of this reason my programming is very colorful and various.
You recently collaborated with Coldplay on their new album, playing piano solo on Kaleidoscope. What was it like working with them? Are you looking to collaborate with other non-classical musicians so to speak?
It was an unforgettable adventure to work with Chris Martin – inspirational and experimentally challenging. I can imagine working with someone that I find interesting; the genre doesn't have an importance. Music doesn't have borders.
You've performed work by Modest Mussorgsky in concert and on your album Kaleidoscope. What's your connection him and/or his music?
Mussorgsky gives me an opportunity to show how diverse volume can be on the piano and how varied dynamics can be. Music can be very beautiful but not [exclusively]. We pianists use one of our senses – touch – to make music and this sense can express all the emotions a human being might have.
What do you want to perform in the near future, both in terms of the piano and in terms of symphonic or orchestral works? Who would you want to perform with next?
I don't like to plan. I only hope that life would be luckily surprising to let me meet people who will inspire me.
What are you looking forward to most about performing in Hong Kong? What are your hopes or expectations for being here and playing music here?
I've never been in Hong Kong. I try not to imagine too much before as I like being surprised. I just hope we will be filled emotionally, me as well as the public, during our concert evening. Isn't that the reason why we play concerts? I hope so.