南華早報 South China Morning Post
Olivier Messiaen's Quartet For the End of Time – Hong Kong musicians overcome initial hesitancy to give commendable performance
by Christopher Halls
11 OCT 2021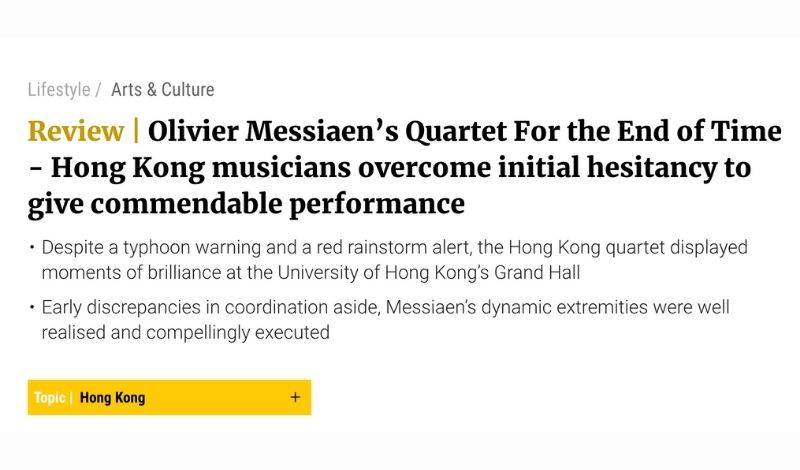 Despite a typhoon warning and a red rainstorm alert, the Hong Kong quartet displayed moments of brilliance at the University of Hong Kong's Grand Hall
Early discrepancies in coordination aside, Messiaen's dynamic extremities were well realised and compellingly executed
"Never had I been listened to with such rapt attention and understanding," recalled French composer Olivier Messiaen, decades after the 1941 premiere of his Quartet For the End of Time (Quatour pour la fin du Temps). His audience was some 400 fellow war prisoners captured in Germany.
Eighty years on, a rapt audience in Hong Kong witnessed a rare airing of this mesmerising Quartet at the University of Hong Kong's Grand Hall on Hong Kong Island – as a typhoon raged on outside.
The piece is an uncompromising one that demands a lot from performers, scored for an unorthodox combination of tonally mismatched instruments because of the limitations inside the war camp.
These were difficulties that the Hong Kong quartet, featuring violinist Kitty Cheung Man-yui, cellist Eric Yip Chun-hei, clarinettist Linus Fung Yat-shan, and pianist Nancy Loo, had to grapple with last Friday.
The ethereal middle section of Vocalise, for the Angel Who Announces the End of Time – one of the eight movements born of Messiaen's deep-rooted Christian faith – was played with haunting beauty by the muted violin and cello.
Both instruments hovered angelically above Loo's cascading "blue-orange" piano chords – a manifestation of Messiaen's synaesthesia, a neurological condition which resulted in his "seeing" chords as colours.
Loo's chords, however, came across as somewhat direct and overpowered the string pairing.
There were slight discrepancies in the coordination of the supposedly simultaneous, whirling rhythms in the Dance of Fury, for the Seven Trumpets, which led to a somewhat scrambled rush to the movement's finish line. And indecision on the part of Loo and Yip in the opening entry of Tangle of Rainbows, for the Angel Who Announces the End of Time slightly rocked the boat.
But as the quartet's communication improved and their sound eventually gelled, Messiaen's dynamic extremities – like in the complex Extatique section – were well realised and compellingly executed.
Yip's sweet cello tone erred towards shyness and hesitancy in Praise to the Eternity of Jesus, proving to be a less-than-heavenly match with Loo's weighty piano playing. Conversely, in the final Praise to the Immortality of Jesus, Cheung's full and fleshy violin tone hinted at glimpses of divinity, but could have benefited from a more varied use of vibrato (or maybe abandon it altogether in some sections) to lend a more vulnerable, heart-wrenching aspect to the conclusion.
Still, it was fascinating to witness how the four musicians went on a quest for that elusive, optimal sound in what was a thoroughly commendable performance.
It was Fung who stole the show with his solo performance of the otherworldly Abyss of the Birds, which Messiaen composed earlier as a stand-alone piece for clarinettist Henry Akoka before both of them ending up in the camp at Görlitz in Germany.
Fung demonstrated brilliant breath control throughout, producing a tone that was seemingly endless, appearing from nowhere and often giving the impression that time had stood still. And then, from the doom and gloom of time's abyss, a wonderful multicoloured sound palette of birdsong emerged from his clarinet.
It was a perfect depiction of how Messiaen linked spirituality and nature.
Back to the hot topic of weather, though. Severe Beijing summer storms inspired composer Joshua Chan to write Fiery Rustles of Rain. This seven-and-a-half-minute work (performed by the same constellation of instruments as Messiaen1's Quartet) was given a convincing world premiere by the four musicians as a red rainstorm alert was raised outside the concert hall.
Messiaen-like rhythms are found in sections depicting varying degrees of rain intensity, and it proved to be both a suitable opener and an apt acknowledgement of 40 years of HKU's department of music.
"For the End of Time: 80 Years of the Messiaen Quartet", Grand Hall, Lee Shau Kee Lecture Centre, the University of Hong Kong. Reviewed October 8.