南華早報 South China Morning Post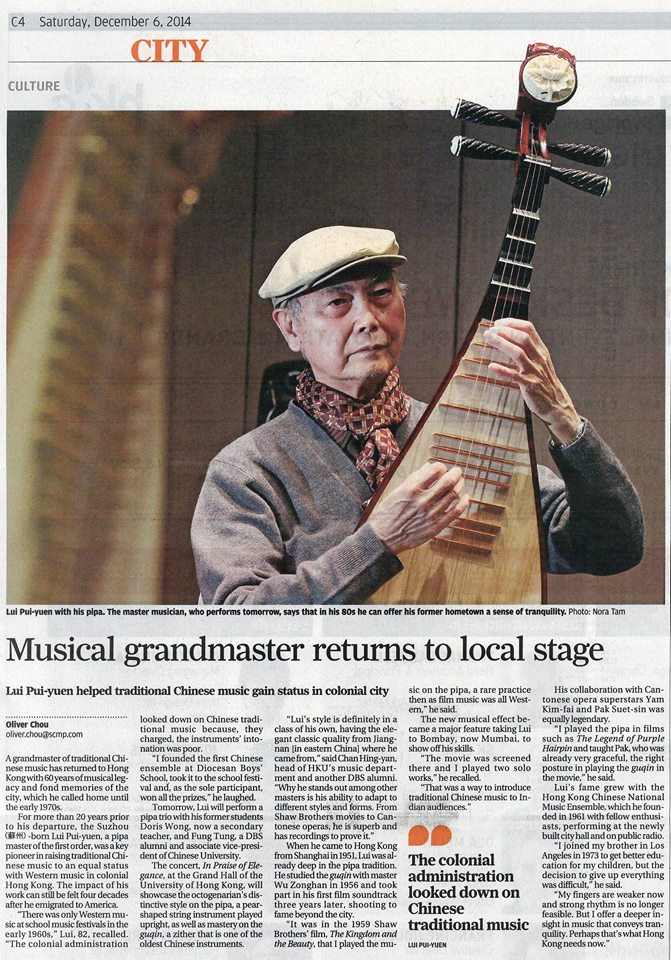 A grandmaster of traditional Chinese music has returned to Hong Kong with 60 years of musical legacy and fond memories of the city, which he called home until the early 1970s.
For more than 20 years prior to his departure, the Suzhou -born Lui Pui-yuen, a pipa master of the first order, was a key pioneer in raising traditional Chinese music to an equal status with Western music in colonial Hong Kong. The impact of his work can still be felt four decades after he emigrated to America.
"There was only Western music at school music festivals in the early 1960s," Lui, 82, recalled. "The colonial administration looked down on Chinese traditional music because, they charged, the instruments' intonation was poor.
"I founded the first Chinese ensemble at Diocesan Boys' School, took it to the school festival and, as the sole participant, won all the prizes," he laughed.
Tomorrow, Lui will perform a pipa trio with his former students Doris Wong, now a secondary teacher, and Fung Tung, a DBS alumni and associate vice-president of Chinese University.
The concert, In Praise of Elegance, at the Grand Hall of the University of Hong Kong, will showcase the octogenarian's distinctive style on the pipa, a pear-shaped string instrument played upright, as well as mastery on the guqin, a zither that is one of the oldest Chinese instruments.
"Lui's style is definitely in a class of his own, having the elegant classic quality from Jiangnan [in eastern China] where he came from," said Chan Hing-yan, head of HKU's music department and another DBS alumni. "Why he stands out among other masters is his ability to adapt to different styles and forms. From Shaw Brothers movies to Cantonese operas, he is superb and has recordings to prove it."
When he came to Hong Kong from Shanghai in 1951, Lui was already deep in the pipa tradition. He studied the guqin with master Wu Zonghan in 1956 and took part in his first film soundtrack three years later, shooting to fame beyond the city.
"It was in the 1959 Shaw Brothers' film, The Kingdom and the Beauty, that I played the music on the pipa, a rare practice then as film music was all Western," he said.
The new musical effect became a major feature taking Lui to Bombay, now Mumbai, to show off his skills.
"The movie was screened there and I played two solo works," he recalled.
"That was a way to introduce traditional Chinese music to Indian audiences."
His collaboration with Cantonese opera superstars Yam Kim-fai and Pak Suet-sin was equally legendary.
"I played the pipa in films such as The Legend of Purple Hairpin and taught Pak, who was already very graceful, the right posture in playing the guqin in the movie," he said.
Lui's fame grew with the Hong Kong Chinese National Music Ensemble, which he founded in 1961 with fellow enthusiasts, performing at the newly built city hall and on public radio.
"I joined my brother in Los Angeles in 1973 to get better education for my children, but the decision to give up everything was difficult," he said.
"My fingers are weaker now and strong rhythm is no longer feasible. But I offer a deeper insight in music that conveys tranquility. Perhaps that's what Hong Kong needs now."
This article appeared in the South China Morning Post print edition as: Musical grandmaster returns to local stage