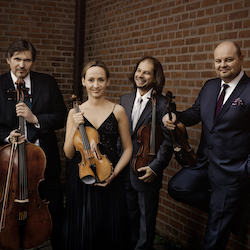 Szymanowski Quartet
Agata Szymczewska, violin
Grzegorz Kotow, violin 
Vladimir Mykytka, viola
Marcin Sieniawski, cello
Founded in Warsaw in 1995, the Szymanowski Quartet has developed into one of the most exceptional international string quartets of its generation. Their sophisticated programmes present a perfect balance between intellect and passion, characteristics that have captivated audiences at festivals and concert halls throughout Europe, North America, South America, Asia and Australia.
The Szymanowski Quartet has received numerous prizes and distinctions for its extraordinarily high standards. They won first prizes at Hanover's "In Memoriam Dimitri Schostakowitsch" and at the "Premio Vittorio Gui" Competition in Florence, and were prizewinners at both the Osaka and the Melbourne International Chamber Music Competitions. From 2001-2003 the Quartet participated in the "New Generation Artists Scheme" of BBC Radio 3 in London. In 2005 they received the "Szymanowski Award" of the Karol Szymanowski Foundation in Warsaw, the first time given to a string quartet, and the Polish government awarded them the Medal of Honor for service to Polish culture in 2007.
The ensemble performs throughout the world in major concert halls: New York's Carnegie Hall, London's Wigmore Hall, the Concertgebouw in Amsterdam, Vienna's Musikverein, the Konzerthaus in Berlin and Grünewald Hall in Stockholm. Their annual North American tours have included concerts in New York, Washington DC, Los Angeles, San Diego, Vancouver and Montreal. The ensemble is a regular guest at prominent international festivals including Schleswig-Holstein and Rheingau, Mozartfest Würzburg, Bregenz and Schwetzingen, Niedersächsische Musiktage as well Lockenhaus, Luxemburg, London, Cheltenham, Bath and Perth. In 2008 the SQ founded the Lviv Chamber Music Festival at the UNESCO World Heritage site on the border between the Ukraine and Poland.
Along with standard classical-romantic repertoire, the SQ's strong commitment to contemporary music includes music by Magnus Lindberg, Elena Kats-Chernin, Philip Cashian, Thomas Larcher and Andrew Toowey, several of whom dedicated their works to the Quartet. Recordings from their BBC concerts document the artistic versatility of the ensemble. The Avie label has released a CD of Haydn, Bacewicz and Dvořák and a classical / jazz crossover recording, "Pure Desmond." In 2009 the Quartet launched the Cavi-music record label, focusing on composer Karol Szymanowski in the context of the music capitals Paris, Vienna and Moscow. Recent recordings include the Shostakovichand Weinberg quintets for Hänssler Classic and music of Zelenski and Zarebski released on Hyperion in December 2012. The Szymanowski Quartet was the February / March 2012 cover feature of "Ensemble", the German magazine for chamber music, interviewed in an article entitled "Intellect and Passion."
The Szymanowski Quartet studied at the Hochschule für Musik und Theater in Hanover with teacher and mentor Hatto Beyerle. Further study has been with Isaac Stern, Walter Levin and the Amadeus, Emerson, Juilliard and Guarneri Quartets. The Szymanowski Quartet has been the "Quartet in Residence" at the Musikhochschule Hanover since 2000.