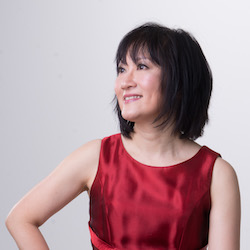 Mary Wu
Hailed by Ravel's protégé late Vlado Perlemuter as "one of the most gifted pianists of her generation", Mary Wu is also praised by the late Lord Yehudi Menuhin as having "a captivating poetical quality to her playing."
Mary Wu has performed extensively worldwide, at concert halls such as the Southbank centre, Wigmore Hall in London, Mozarteum Salzburg, Merkin Hall in New York, Hong Kong City Hall Concert Hall, Cultural Centre in Hong Kong, Esplanade in Singapore, Beijing Concert Hall, Shanghai Concert Hall and Guangzhou (Xing Hai) Concert Hall in China. She has also performed at the Ibiza Festival in Spain, the l'Académie de Ravel in France, the Singapore Arts Festival, the Asian Pianist Masters Series in Singapore, the International Contemporary Music Festival, Manhattan Hong Kong Festival in New York, the Intimacy of Creativity Festival in Hong Kong and the Macau Festival.
As a chamber musician she has performed with the legendary Lord Yehudi Menuhin, Vlado Perlemuter, Richard Stoltzman, Colin Carr, the Maggini Quartet, and the Bauhinia Piano Trio in Hong Kong of which she is a founding member. She has appeared as a soloist with the Calgary Philharmonic Orchestra, Central Philharmonic Orchestra in Beijing, Polish Baltic F.Chopin Philharmonic in Gdańsk, the Hong Kong Philharmonic Orchestra, the Guangzhou Symphony Orchestra, Hong Kong Sinfonietta, Hong Kong City Chamber Orchestra, Singapore Chinese Orchestra, the Hong Kong Chinese Orchestra, Bangkok Symphony Orchestra and Macau Orchestra.
At an early age, Mary Wu started full time professional music training at the Yehudi Menuhin School, the Royal College of Music, Banff Centre and the State University of New York at Stony Brook where she completed a Doctorate of Music degree. Her teachers include Vlado Perlemuter, Louis Kentner and Gilbert Kalish. She currently serves as a faculty member of the Hong Kong Academy of Performing Arts. Her prizes and distinctions include first prize at the Royal Overseas League Competition, the Mozart Bicentenary Competition of Asia and the Hong Kong Arts Development Council's Best Artist Award in Music in 2010. In 2003, she was voted as one of Hong Kong's Top Ten Outstanding Young Persons.
She is featured as a major artist in the recently published " Hong Kong Music History (CC Liu, Commercial Press 2014)." Mary Wu has recorded on BMG, " Contemporary Chinese Piano Works" by Paradism and "Ravel Piano Works" under Universal Label, complete Arnold Bax / Ernest Reed violin and piano works with violinist Robert Gibbs on ASV.