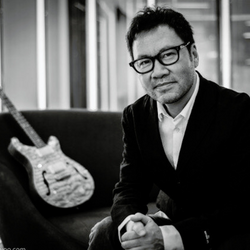 Eugene Pao
Simply put, Eugene Pao is Hong Kong's most publicly recognized jazz musician and his name is synonymous with jazz in our city. Such reputation cannot be more deserving as Eugene has been at the vanguard of promoting jazz in the territory through his performances and recordings over the last thirty-plus years.
Hong Kong first discovered its own guitar hero in the mid-1980's when Eugene returned from studies in the U.S. and began playing around town. Recognition came early from leading international jazz musicians. Some of his early recordings featured such legends as bassist Eddie Gomez, blues great Jimmy Witherspoon, and saxophonist Michael Brecker.
He went to New York to make his first solo album in 1996 called "By The Company You Keep" with a stellar cast of Jazz greats, drummer Jack DeJonette bassist John Patitucci and Michael Brecker again on saxophone. In 1999, Eugene released "This Window" another outstanding album record in New York on which he penned half of the tunes, with the support of Jack DeJohnette, bassist Marc Johnson, and pianist Joey Calderazzo. In 2001, Eugene traveled to Europe and recorded a set of beautiful, lyrical standards with the Mads Vinding Trio from Denmark called "Pao". In 2004 he released "Naked Time", a fiery 1994 recording with Michael Brecker, James Genus, Dan Gottlieb, Jeff Andrews, Manolo Badrena and compatriot Ted Lo. In 2005, Eugene Pao Project was released, a multi-media DVD concept filmed without an audience at Hong Kong's Academy For The Performing Arts, featuring top Asian musicians and mixed in DTS 5.1 surround sound. In 2006, Eugene was invited to form the "Asian Super Guitar Project" with two other guitarists, Kazumi Watanabe from Japan and Jack Lee from Korea, a guitar trio unique in its genre gathering and mixing differences of cultures, influences, politics and religion from three Asian countries, Japan, China, and Korea. They got together in the summer of 2006 and made a record entitled "Guitar Sam Guk Ji" and toured around Asia throughout 2007. Early 2008 Eugene was invited by The Hong Kong Trade & Economic Office to perform on a 9 city European tour to promote Hong Kong as their jazz ambassador. In 2009 They invite him back again to perform in London. In 2010 He joined the Asian All Stars Power Jazz Quartet with 3 other top jazz musicians from Asia. They released a live CD in 2011 and have toured all over Asia. In 2012 the Asian all Stars Power Quartet was invited to perform at the prestigious London Jazz Festival and received a great review from allaboutjazz.com. Early 2013 they also performed at the JAVA Jazz Festival in Jakarta. In May 0f 2013 he performed with multi-instrumentalist James Morrison and the Hong Kong Philharmonic Orchestra. In December of 2013 he toured Asia with Dutch Jazz Singer Laura Fygi. In March of 2014 at the Singapore Jazz Festival Eugene performed with both The Asian Jazz All Stars Power Quartet & with James Morrison's band. In November of 2014 Eugene toured Europe with The Asian Jazz All Stars Power Quartet performing at Ronnie Scotts as part of the 2014 London Jazz Festival as well as the legendary Jazz club, Jazzkeller in Frankfurt. In April 2015 he was the featured soloist with the Hong Kong Philharmonic Orchestra and James Morrison on 3 concerts. In November 2016 he performed with Italian Organist Alberto Marsico , Jeremy Monteiro and the Jazz Blues Brothers for the London Jazz Festival at the Elger Room of The Royal Albert Hall. In December 2017 he performed as part of the Guitar Legacy Trio with Martin Taylor and Ulf Wakenius. In November 2018 he was invited to play on top international female jazz vocalist Laura Fygi's latest album. That same month he performed in a crossover concert with classical cellist Trey Lee and Trondheim Strings ensemble as the principal soloist.
Top venues and International jazz festivals he had performed at includes London Jazz Festival, Royal Albert Hall in London, Ronnie Scotts London, Glascow Jazz Festival Scotland, Tokyo Cotton Club, Blue Note, Jazzkeller in Frankfurt, Blue Note Beijing, JZ Club Shanghai, City Hall concert hall & Cultural Center Hong Kong, Esplanade Concert Hall Singapore, Montreal Jazz Festival, Jak-jazz and Java Jazz Indonesia, Singapore Jazz Festival, Mount Fuji jazz festival Japan, Live Under The Sky Japan and Hong Kong, Jazz Marathon International Jazz Festival Hong Kong and many more.
Jazz greats with whom he has recorded with and performed on stage over the years include Jack DeJohnette, Michael Brecker, John Patitucci, Joey Calderazo, Marc Johnson, Eddie Gomez, Terumasa Hino, Bob Berg, Ulf Wakenius, Mads Vinding, Ernie Watts, Martin Taylor, James Moody, Bill Bruford, Jeff Berlin, Bobby McFerrin, Eric Marienthal, Richard Galiano, Toninho Horta, Georgie Fame, Laura Fygi and many more.
Over the last three decades, Eugene Pao has truly established himself as Hong Kong's premier jazz guitarist. He continues to travel the world for performances at international jazz festivals, concert halls, and jazz clubs, and to take part in selected recording projects. As a composer, He had contributed music to countless TV commercials, and his film soundtracks have been nominated for best original score at the HK Film Awards.
Esquire Magazine featured him on the cover as one of the 20 most influential men on their 20t​h Anniversary Issue and recently the PRS guitar company asked him to join their artist endorsement program and custom-built a signature guitar for him. He was also featured on the cover of the recent issue of re:pect magazine.