星滿穹蒼:西三一大學合唱團
04 MAR 2018 | SUN | 3PM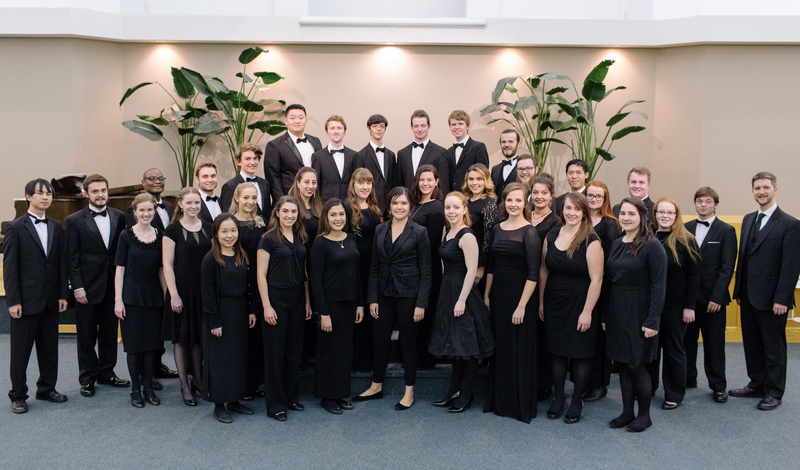 Programme
SQUIRES Veni
TRAD. / arr. CORLIS Sonnez les cloches*
DOVE Ring Out, Wild Bells
TRAD. / arr. WASHBURN Chinese Melodies
HEMSWORTH / arr. SMAIL Log Driver's Waltz
NICKEL I Cannot Dance
POULENC Laudamus te (from Gloria)
BRAHMS Schaffe in mir, Gott, ein rein Herz
EŠENVALDS Stars
FAURÉ Cantique de Jean Racine
TICHELI There Will Be Rest
CORLIS Sanctus and Hosanna
TRAD. / arr. KIRCHNER Bright Morning Stars
SCRIVEN Christ the Apple Tree
TRAD. / arr. CALDWELL and IVORY John the Revelator
*With HKU Chamber Singers
The HKU MUSE Spring 2018 Season will raise its curtains with Canada's Trinity Western University Chamber Choir. Under the baton of Dr. Joel Tranquilla, the Choir will present an eclectic mix of repertoire from the Baroque to the contemporary, comprising a wide musical spectrum with works by Brahms, Fauré, Poulenc as well as pieces by Canadian composers Timothy Corlis, Larry Nickel, and David Squires. The Choir will also share the stage with HKU Chamber Singers to perform Corlis' Sonnez les Cloches (Ring the Bells), which will begin with the playful nursery rhyme Frère Jacques – one of the most widely known tunes on earth. Come experience their choral sonority and creative repertory!
Artists
Trinity Western University Chamber Choir
Joel Tranquilla, conductor
Remarks
For ages 6+
Approximately 1 hour without intermission
Guests are advised to arrive punctually.
No latecomers will be admitted until a suitable break in the programme.
Programmes and artists are subject to change.
Presented by

Supported by