辻井伸行鋼琴獨奏會
10 JUN 2023 | SAT | 8PM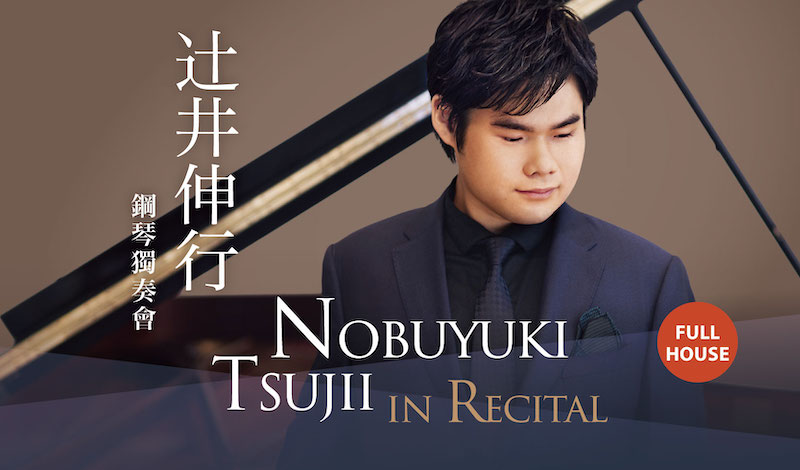 Programme
BEETHOVEN Piano Sonata No. 14 in C-sharp minor, Op. 27, No. 2, 'Moonlight'
LISZT Consolation No. 2 in E major, S. 172
LISZT Venezia e Napoli, S. 162
RAVEL Menuet sur le nom d'Haydn
RAVEL Pavane pour une infante défunte
RAVEL Jeux d'eau
KAPUSTIN Eight Concert Etudes, Op. 40
Four years after his sold-out concert with Orpheus Chamber Orchestra, the 2009 Van Cliburn Gold Medalist Nobuyuki Tsujii returns to HKU MUSE with a recital debut! This time, the audience will hear his interpretation of Beethoven's timeless 'Moonlight' Sonata and a selection of brilliantly virtuosic and richly poetic piano works by Liszt and Ravel. The programme also features the jazzy, formidable Eight Concert Etudes by Nicolai Kapustin as the finale.
四年前與奧菲斯室樂團首次亮相港大、觸動無數樂迷的日本鋼琴家辻井伸行即將載譽回歸繆思樂季。以20歲之齡勇奪范.克萊本大賽冠軍的他,將在香港獨奏會首演帶來貝多芬不朽的「月光」奏鳴曲、李斯特和拉威爾突顯超凡技藝且詩意盎然的精選作品,並以作曲家卡普斯汀(Nikolai Kapustin, 1937-2020)糅合爵士與古典樂風的「八首音樂會練習曲」為壓軸。
Biography
Venue
Grand Hall
Lee Shau Kee Lecture Centre
Centennial Campus
The University of Hong Kong
Admission
For ages 10+
Tickets at art-mate.net
Remarks
Patrons under the age of 10 will not be admitted.
The programme is approximately 1 hour and 30 minutes with an intermission.
Guests are advised to arrive punctually. No latecomers will be admitted until a suitable break in the programme.
Programmes and artists are subject to change.
The presenter reserves the right to make final decisions on seating arrangement, to deny entry, and reserve all rights of final arbitration in case of dispute.
Presented by

Supported by