炫技黑白:賓尼亞堤菲莉鋼琴獨奏會​
20 MAR 2016 | SUN | 3PM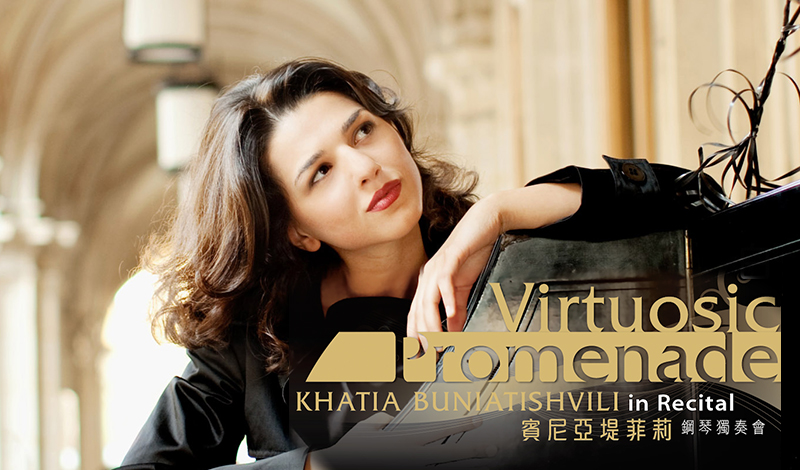 Programme
MUSSORGSKY Pictures at an Exhibition
LISZT La leggerezza, Feux follets, and La campanella
LISZT/HOROWITZ Hungarian Rhapsody No. 2
STRAVINSKY Trois Mouvements de Pétrouchka
Be ready to immerse in the beauty of Khatia Buniatishvili's breathtaking and imaginative piano playing. The 28-year-old Georgian pianist, a shining star at the height of her abilities, brings her "manic maelstrom of musical energy" (The Times, London) to her Hong Kong debut at the Grand Hall, HKU. Acclaimed as "one of today's most technically gifted young pianists" (Gramophone), Khatia will demonstrate keyboard magic of exceptional sensitivity, with Mussorgsky's Pictures at an Exhibition and works by Liszt and Stravinsky.
Pictures at an Exhibition at HKU
Curated by University Museum and Art Gallery, HKU
The Russian composer Modest Mussorgsky (1839-1881) composed Pictures at an Exhibition for piano in 1874. A suite of vividly drawn tonal sketches, Mussorgsky frequently repeats and varies a musical statement titled Promenade that imaginatively takes the listener on a walk from 'The Old Castle' (no. 2), 'The Market at Limoges' (no. 7), to 'The Great Gate of Kiev' (no. 10), to name but three stops on this inspirational journey. To accompany the performance of this famous work at HKU by pianist Khatia Buniatishvili, this exhibition of photographs illustrates promenades through Hong Kong and the busy streets of our developing world metropolis in the 1960s.
14-31 MAR 2016
Foyer, Chi Wah Learning Commons | Opening Hours
FREE Admission
Remarks
For ages 6+
Approximately 2 hours with intermission
Guests are advised to arrive punctually.
No latecomers will be admitted until a suitable break in the programme.
Programmes and artists are subject to change.
Presented by

Supported by