重塑巴赫小提琴夏康曲的演奏傳統
16 SEP 2015 | WED | 5PM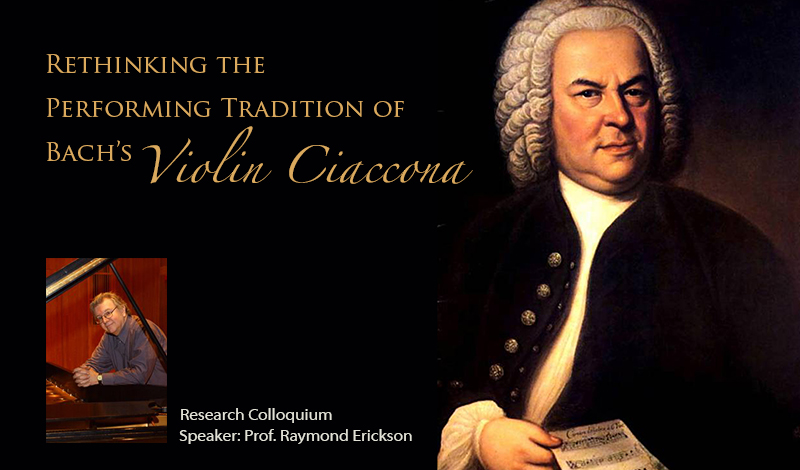 Programme
Research Colloquium
(In English)
The conventional way of performing Bach's Ciaccona for unaccompanied violin (established in the late 19th century) has little historical basis, for it is not based on an understanding of baroque dance. In addition, at the time the tradition was established, knowledge of baroque instruments, of baroque playing techniques, and of the tempo implication of baroque meter signatures was also essentially lost. Although the work is an amalgam of various national style traits, an examination of the music reveals that Bach's Ciaccona most closely adheres to the model of the French theatrical passacaille, which leads to a conception and interpretation of the work radically different from longstanding tradition. To support the analysis the presentation will be supplemented with a video of a performance that also incorporates baroque dance, thereby underscoring the danceable quality of the music.
Raymond Erickson (Professor Emeritus of Music, Queens College and The Graduate Center, The City University of New York) continues to have a dual career as scholar and performer. As scholar (Ph.D., Yale) he has published books in the varied fields of computer applications in music, medieval music theory, Schubert, and Bach; his research has been supported by the National Endowment for the Humanities, the Alexander von Humboldt Foundation, the Andrew W. Mellon Foundation, and the National Humanities Center. As harpsichordist and pianist he has concertized internationally: in 2014 he played the first major solo harpsichord recitals in Wuhan and Beijing. Moreover, he has introduced improvisations as a regular feature of his performances. In recent decades his teaching (also at Rutgers University and Juilliard) has focused on historical performance; in 2010 he established "Rethinking Bach: A Performers' Workshop" that since 2014 is resident at Tokai University (Shonan), Japan.
Speaker:Prof. Raymond Erickson, Professor Emeritus of Music, Queens College and The Graduate Center, City University of New York
Venue
Seminar Room 11.01
11/F, Run Run Shaw Tower
The University of Hong Kong
Admission
FREE via online registration
Remarks
For ages 6+
Approximately 1.5 hours without intermission
Guests are advised to arrive punctually.
No latecomers will be admitted until a suitable break in the programme.
Programmes and artists are subject to change.
Presented by