斯克里亞賓與拉赫曼尼諾夫:安德烈.古寧鋼琴獨奏會
16 SEP 2022 | FRI | 8PM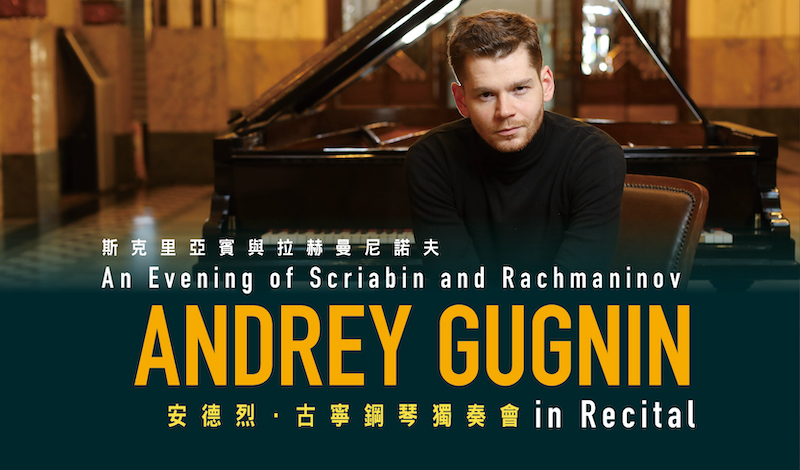 Known for his lucid touch and shimmering tones, Andrey Gugnin is hailed by the Gramophone as possessing "an extraordinarily versatile and agile technique, which serves an often inspired musical imagination." Prize winner of several prestigious competitions, such as the Sydney International Piano Competition in 2016 and the 2013 Beethoven International Piano Competition in Vienna, he has performed on prestigious stages worldwide and gained a stellar reputation as a passionate and virtuosic pianist. In 2020, the BBC Music Magazine named Gugnin the winner of the Instrumental Award for his Shostakovich album with Hyperion Records.
In his Hong Kong debut, Gugnin leads us to venture into the most delicate and intense realms of the human psyche with select works by Scriabin and Rachmaninov, two late romantics who struck an exquisite balance between tradition and revolution. The audience will be absorbed in a capricious frenzy with waves of impassioned sentiments, ranging from bittersweet love to ferocious agony. Join us on this thrill ride!
鋼琴家安德烈.古寧以清晰的指觸和柔亮的音色著稱,他將於下個月首度來港!《留聲機》雜誌形容他的技巧「非常靈活多變,能實現他非同凡響的音樂想像」。他屢獲殊榮,曾於2013年貝多芬國際鋼琴大賽獲得亞軍,並於2016悉尼國際鋼琴大賽奪冠,以充滿熱情和技藝超群的演奏蜚聲國際。他將引領觀眾探索最細膩和強烈的情感——精選的斯克里亞賓與拉赫曼尼諾夫作品極能體現晚期浪漫主義的奔放情懷,在傳統與革新之間取得絕妙的平衡。古寧詮釋大師們的一首首短曲或甜蜜或苦澀,將令人心醉神迷。
Programme
SCRIABIN
Three Pieces, Op. 45
Fantasie in B minor, Op. 28
Preludes, Oр. 11, Nos. 2, 3, 4, 11, 14
Prelude, Oр. 16, No. 4
Sonata No. 2, Op. 19, 'Sonate-fantasie'
Etudes, Oр. 8, Nos. 11 & 12
RACHMANINOV
13 Preludes, Op. 32
Remarks
Patrons under the age of 8 will not be admitted.
The programme is approximately 1 hour and 30 minutes with an intermission.
Guests are advised to arrive punctually. No latecomers will be admitted until a suitable break in the programme.
Please show the QR code in your ticket confirmation email for admission.
The presenter reserves the right to make final decisions on seating arrangement.
Programmes and artists are subject to change.
Admission
Except for exempted persons*, all concert-goers are required to use the "LeaveHomeSafe" app to scan the venue QR code before entering the venue.
Please present an electronic version or a paper copy of your COVID-19 vaccination record for admission. For the latest vaccination requirements of the "Vaccine Pass", please visit HKU's COVID-19 Info Hub and the Government's COVID-19 Thematic Website.
A temperature check will be conducted upon entry. Anyone with fever or respiratory symptoms should seek medical advice and will not be admitted.
Guests are required to wear masks throughout the event.
Please use the disinfectant dispensers and always maintain social distancing.
Due to social distancing requirements, some seats in the venue will be left empty. Please only take your assigned seat as stated on the ticket.
The presenters reserve the right to deny entry or to require anyone to leave if, in their opinion, the above-mentioned instructions have not been observed, and reserve all rights of final arbitration in case of dispute.
* Persons aged below 12 or aged 65 or above and those with disabilities that render use of the app difficult. All exempted persons are required to register their names, their contact numbers, and the date and time of their visits. They are also required to present relevant identification documents for verification at the request of the staff on-site during registration.
Presented by

Supported by