Interview with Steven Isserlis – Guts and glory
05 OCT 2016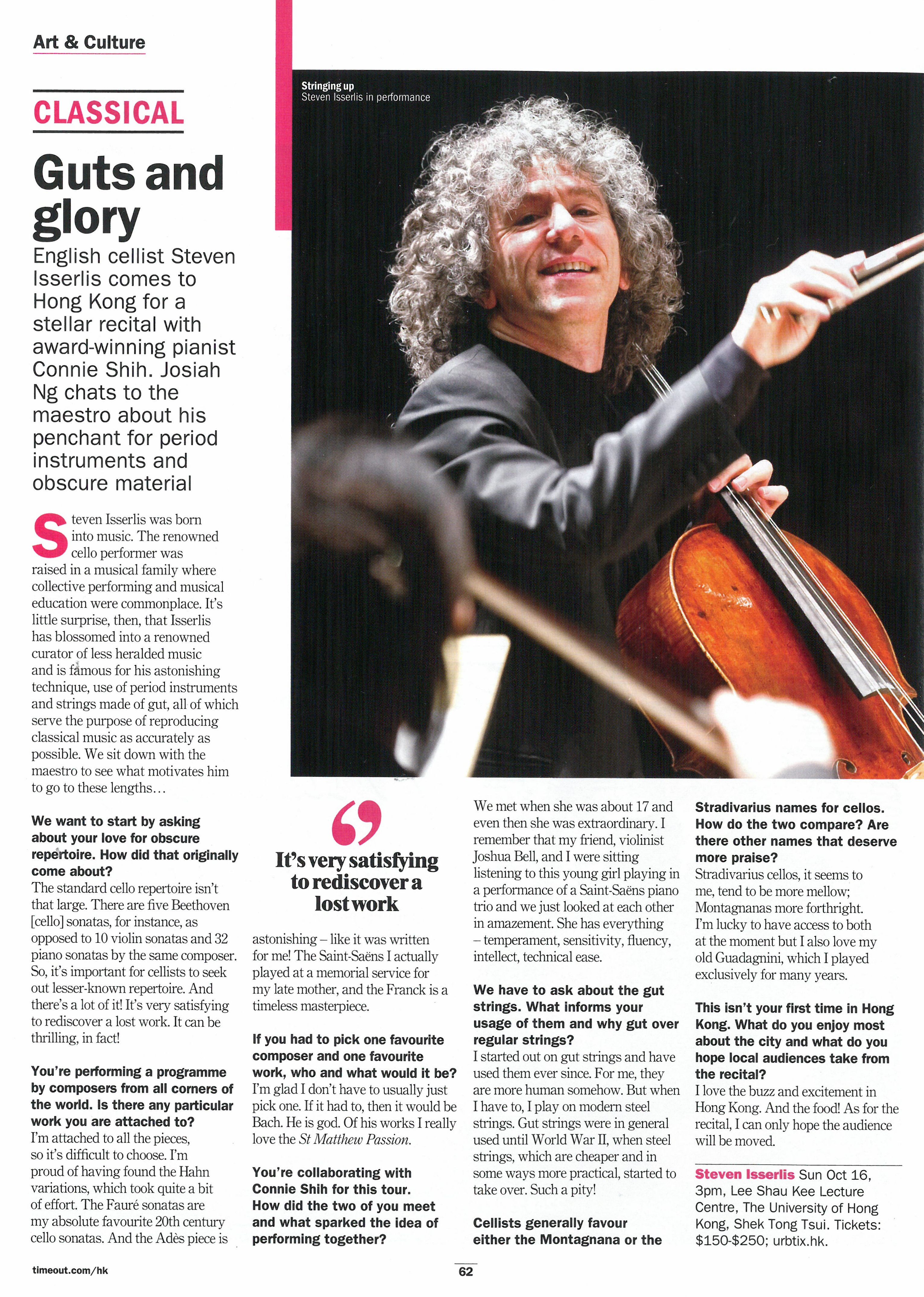 Guts and glory
English cellist Steven Isserlis comes to Hong Kong for a stellar recital with award-winning pianist Connie Shih. Josiah Ng chats to the maestro about his penchant for period instruments and obscure materials.
Steven Isserlis was born into music. The renowned cello performer was raised in a musical family where collective performing and musical education were commonplace. It's little surprise, then, that Isserlis has blossomed into a renowned curator of less heralded music and is famous for his astonishing technique, use of period instruments and strings made of gut, and of which serve the purpose of reproducing classical music as accurately as possible. We sit down with the maestro to see what motivates him to go to these lengths…
We want to start by asking about your love for obscure repertoire. How did that originally come about?
The standard cello repertoire isn't that large. There are five Beethoven [cello] sonatas, for instance, as opposed to 10 violin sonatas and 32 piano sonatas by the same composer. So, it's important for cellists to seek out lesser-known repertoire. And there's a lot of it! It's very satisfying to rediscover a lost work. It can be thrilling, in fact!
You're performing a programme by composers from all corners of the world. Is there any particular work you are attached to?
I'm attached to all the pieces, so it's difficult to choose. I'm proud of having found the Hahn variations, which took quite a bit of effort. The Fauré sonatas are absolutely my favourite 20th century cello sonatas. And the Adés piece is astonishing – like it was written for me! The Saint-Saëns I actually played at a memorial service for my late mother, and the Franck is a timeless masterpiece.
If you had to pick one favourite composer and one favourite work, who and what would it be?
I'm glad I don't have to usually just pick one. If it had to, then it would be Bach. He is god. Of his works I really love the St Matthew Passion.
You're collaborating with Connie Shih for this tour. How did the two of you meet and what sparked the idea of performing together?
We met when she was about 17 and even then she was extraordinary. I remember that my friend, violinist Joshua Bell, and I were sitting listening tot his young girl playing in a performance of a Saint-Saëns piano trio and we just looked at each other in amazement. She has everything – temperament, sensitivity, fluency, intellect, technical ease.
We have to ask about the gut strings. What informs your usage of them and why gut over regular strings?
I started out on gut strings and have used them over since. For me, they are more human somehow. But when I have to, I play on modern steel strings. Gut strings were in general used until World War II, when steel strings, which are cheaper and in some ways more practical, started to take over. Such a pity!
Cellists generally favour either the Montagnana or the Stradivarius names for cellos. How do the two compare? Are there other names that deserve more praise?
Stradivarius cellos, it seems to me, tend to be more mellow; Montagnanas more forthright. I'm lucky to have access to both at the moment but I also love my old Guadagnini, which I played exclusively for many years.
This isn't your first time in Hong Kong. What do you enjoy most about the city and what do you hope local audiences take from the recital?
I love the buzz and excitement in Hong Kong. And the food! As for the recital, I can only hope the audience will be moved.