南華早報 South China Morning Post
Review: Konstantin Lifschitz begins Beethoven marathon in Hong Kong with delicacy and assurance
By Dirk Newton
18 SEP 2017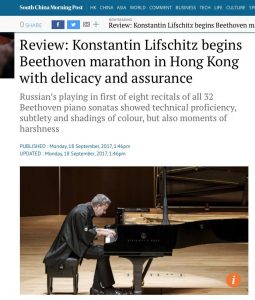 Tackling a marathon takes perseverance, stamina and technical proficiency. At times it can be a physical and mental battle. And a marathon is what pianist Konstantin Lifschitz has taken on in performing all 32 of Beethoven's piano sonatas over six nights (and two matinees), in the first of the 2017-18 season of Spotlight Encounters at the University of Hong Kong.
Clad in all black, Lifschitz took a no-nonsense approach to the composer's first four sonatas.
Barely allowing time for the opening applause to die away, he embarked on the arpeggiated opening of the first sonata, Op. 2, No. 1 in F minor. The marathon had begun.
Dutifully observing all the repeat markings, Lifschitz presented the opening movement with a restrained dynamic palette. He adopted a somewhat indulgent tempo in the slower second movement, yet showed technical proficiency throughout. Repeated sections were interpreted with subtle differences in colour, and shifts in emotional depth were always evident.
The final movement was taken at a frenetic pace, which at times resulted in a harshness of tone not ordinarily associated with these early sonatas.
While his first three sonatas are all dedicated to Beethoven's teacher, Joseph Haydn, it is the second and third (No. 2 in A major and No. 3 in C major) that contain the more obvious musical echoes of his mentor's wit and humour.
There was at times a harshness of attack to the Russian's playing of the second sonata, particularly in the sforzandi passages, perhaps to fully capture the work's humour.
It is a challenge to convey the composer's appassionato marking in the second movement; not one of Beethoven's best, much of the melody is static and the bass moves in a detached manner. Lifschitz, though, managed to convey its darkness and make sense of its unusual design.
And he showed the requisite lightness of touch and assurance in the sonata's concluding movements, played with effortless simplicity.
The Adagio movement of the third sonata contained the evening's moments of greatest beauty. Beethoven builds the movement around harmonic tension and resolution, which the Russian executed with the greatest delicacy.
It was a joy to have a glimpse into Beethoven's development even in these early sonatas: from the simple to the sublime, and from the subtle to the sophisticated, these pieces bear the composer's hallmark.
The Immortal 32: Lifschitz's Beethoven Cycle Programme I, Konstantin Lifschitz, Grand Hall, the University of Hong Kong. Reviewed: September 15