南華早報 South China Morning Post
Review: Steven Isserlis and Connie Shih shine in pursuit of Proust
French author and the mystery of his fictional sonata serve as pegs for recital of music for cello and piano, including a work by Proust's companion Reynaldo Hahn
By Martin Lim
17 OCT 2016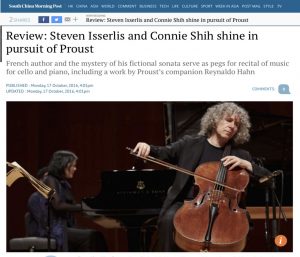 Even if cellist Steven Isserlis hadn't blurted it out midway through his recital at the University of Hong Kong, astute listeners would probably have figured out that the central peg holding Sunday's Francophile programme in place was the author Marcel Proust.
Proust wrote passionately (if idiosyncratically) about music, particularly its effects on memory, and for roughly a century critics have tried to determine what real pieces inspired the fictional Vinteuil Sonata that wafts through Proust's novel A la recherche du temps perdu.
For at least 20 years, literary musicians have put together programmes tracing possible suspects among Proust's musical contemporaries, from Gabriel Fauré to Caesar Franck. Rarely, though, has the subject been surveyed as broadly or effectively as Isserlis did on Sunday with the pianist Connie Shih, in a concert that featured music by Proust's longtime companion Reynaldo Hayn and a Proust-inspired work by the British composer Thomas Adès written for Isserlis himself.
The Venezuelan-born Hayn was best known as a composer of songs and light opera, and even his Variations Chantantes was heavily lyrical in its demands.
Adès' Lieux Retrouvés (Rediscovered Places) explores a wide musical range, with various playing techniques used to paint different sonic landscapes. Les eaux (The Waters) was marked by a pure transparency of sound, while La montagne (The Mountains) scaled the heights of plucked and strummed sonorities. Les champs (The Fields) unfolded in wide-open melodic intervals, while the piece ended with La ville: Cancan macabre, a rather debased, devilish dance.
The core of the programme comprised three pieces roughly from the Belle Epoque. Fauré's Sonata No. 1 in D minor – written in 1917, four years after Proust first wrote about the Vinteuil Sonata – rather ruled itself out as Proust's model. Echoes of the first world war abound right from its rather violent opening, with the piece's vigorous energy conveying very little optimism.
After opening the second half of the recital with Saint-Saén's Romance, the stand-alone slow movement from the composer's Sonata No. 2 in F major, Isserlis and Shih ended the programme with Franck's Sonata in A major.
In its original version for violin, the piece's recurring triadic melody might well have been the musical theme that haunted Proust. It certainly haunted Sunday's audience, with Isserlis extracting every bit of colour possible from the deceptively simple phrase.
It was also a defining moment for the Canadian-born Shih. Due partly to the pieces themselves and to Isserlis' abundant charisma, the pianist had been relegated to the background through much of the afternoon. But having first asserted herself as she coped with Adès' arduous demands, Shih came fully into her own in the Franck. Piano and cello joined together on wholly equal terms, forming a shimmering surface that belied the athletic contortions beneath.
Steven Isserlis Cello Recital, The University of Hong Kong. Reviewed: October 16