南華早報 South China Morning Post
Interview with Iestyn Davies
Raise The Tone
By Victoria Finlay
9 SEP 2014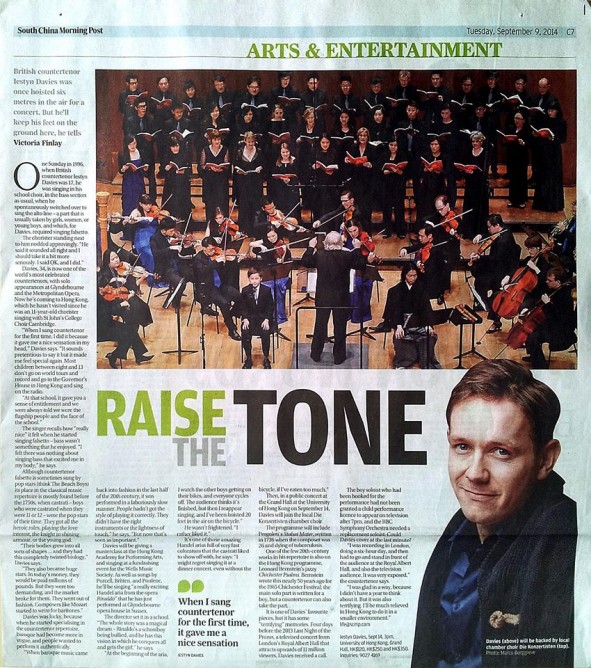 One Sunday in 1996, when British countertenor Iestyn Davies was 17, he was singing in his school choir, in the bass section as usual, when he spontaneously switched over to sing the alto line – a part that is usually taken by girls, women, or young boys, and which, for Davies, required singing falsetto.
The chorister standing next to him nodded approvingly. "He said it sounded all right and I should take it a bit more seriously. I said OK, and I did."
Davies, 34, is now one of the world's most celebrated countertenors, with solo appearances at Glyndebourne and the Metropolitan Opera. Now he's coming to Hong Kong, which he hasn't visited since he was an 11-year-old chorister singing with St John's College Choir Cambridge.
"When I sang countertenor for the first time, I did it because it gave me a nice sensation in my head," Davies says. "It sounds pretentious to say it but it made me feel special again. Most children between eight and 13 don't go on world tours and record and go to the Governor's House in Hong Kong and sing on the radio.
"At that school, it gave you a sense of entitlement and we were always told we were the flagship people and the face of the school."
The singer recalls how "really nice" it felt when he started singing falsetto – bass wasn't something that he enjoyed. "I felt there was nothing about singing bass that excited me in my body," he says.
Although countertenor falsetto is sometimes sung by pop stars (think The Beach Boys) its place in the classical music repertoire is mostly found before the 1750s, when castrati – boys who were castrated when they were 11 or 12 – were the pop stars of their time. They got all the heroic roles, playing the love interest, the knight in shining armour, or the young god.
"Their bodies grew into all sorts of shapes … and they had this completely twisted biology," Davies says.
"They also became huge stars. In today's money, they would be paid millions of pounds. But they were too demanding, and the market broke for them. They went out of fashion. Composers like Mozart started to write for baritones."
Davies was lucky, because when he started specialising in the countertenor repertoire, baroque had become more in vogue, and people wanted to perform it authentically.
"When baroque music came back into fashion in the last half of the 20th century, it was performed in a laboriously slow manner. People hadn't got the style of playing it correctly. They didn't have the right instruments or the lightness of touch," he says. "But now that's seen as important."
Davies will be giving a masterclass at the Hong Kong Academy for Performing Arts, and singing at a fundraising event for the Wells Music Society. As well as songs by Purcell, Britten, and Poulenc, he'll be singing "a really exciting Handel aria from the opera Rinaldo" that he has just performed at Glyndebourne opera house in Sussex.
The director set it in a school. "The whole story was a magical dream – Rinaldo's a schoolboy being bullied, and he has this vision in which he conquers all and gets the girl," he says.
"At the beginning of the aria, I watch the other boys getting on their bikes, and everyone cycles off. The audience thinks it's finished, but then I reappear singing, and I've been hoisted 20 feet in the air on the bicycle."
He wasn't frightened. "I rather liked it."
It's one of those amazing Handel arias full of very fast coloratura that the castrati liked to show off with, he says: "I might regret singing it at a dinner concert, even without the bicycle, if I've eaten too much."
Then, in a public concert at the Grand Hall at the University of Hong Kong on September 14, Davies will join the local Die Konzertisten chamber choir.
The programme will include Pergolesi's Stabat Mater, written in 1736 when the composer was 26 and dying of tuberculosis.
One of the few 20th-century works in his repertoire is also on the Hong Kong programme, Leonard Bernstein's jazzy Chichester Psalms. Bernstein wrote this nearly 50 years ago for the 1965 Chichester Festival; the main solo part is written for a boy, but a countertenor can also take the part.
It is one of Davies' favourite pieces, but it has some "terrifying" memories. Four days before the 2013 Last Night of the Proms, a televised concert from London's Royal Albert Hall that attracts upwards of 11 million viewers, Davies received a call.
The boy soloist who had been booked for the performance had not been granted a child performance licence to appear on television after 7pm, and the BBC Symphony Orchestra needed a replacement soloist. Could Davies cover at the last minute?
"I was recording in London, doing a six-hour day, and then had to go and stand in front of the audience at the Royal Albert Hall, and also the television audience. It was very exposed," the countertenor says.
"I was glad in a way, because I didn't have a year to think about it. But it was also terrifying. I'll be much relieved in Hong Kong to do it in a smaller environment."

Iestyn Davies, Sept 14, 3pm, University of Hong Kong, Grand Hall