南華早報 South China Morning Post
Angela Hewitt Piano Recital
By Alexis Alrich
04 MAR 2014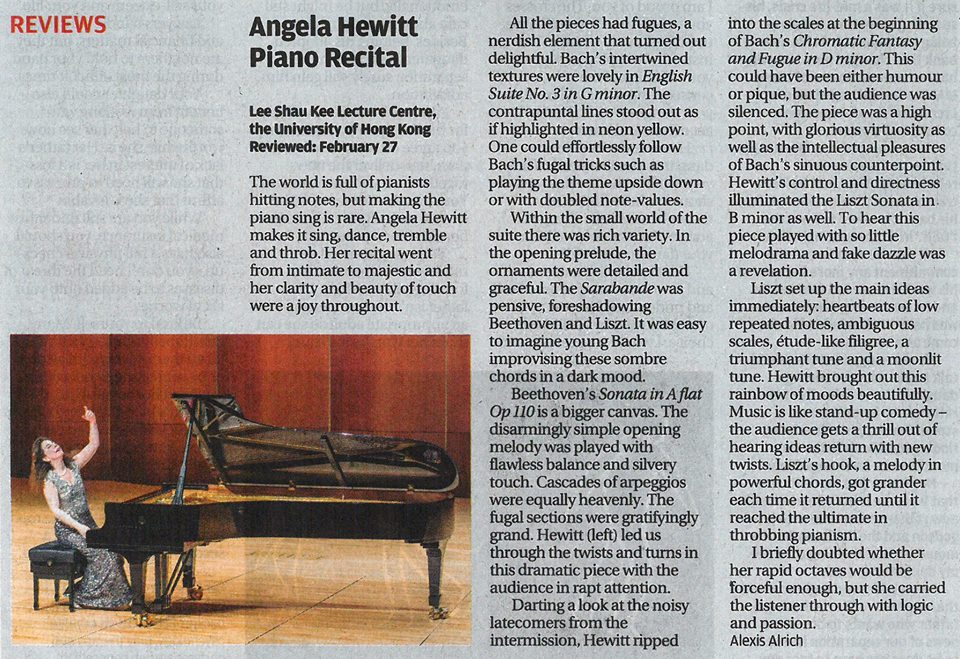 The world is full of pianists hitting notes, but making the piano sing is rare. Angela Hewitt makes it sing, dance, tremble and throb. Her recital went from intimate to majestic and her clarity and beauty of touch were a joy throughout.
All the pieces had fugues, a nerdish element that turned out delightful. Bach's intertwined textures were lovely in English Suite No. 3 in G minor. The contrapuntal lines stood out as if highlighted in neon yellow. One could effortlessly follow Bach's fugal tricks such as playing the theme upside down or with doubled note-values.
Within the small world of the suite there was rich variety. In the opening prelude, the ornaments were detailed and graceful. The Sarabande was pensive, foreshadowing Beethoven and Liszt. It was easy to imagine young Bach improvising these sombre chords in a dark mood.
Beethoven's Sonata in A flat Op 110 is a bigger canvas. The disarmingly simple opening melody was played with flawless balance and silvery touch. Cascades of arpeggios were equally heavenly. The fugal sections were gratifyingly grand. Hewitt (left) led us through the twists and turns in this dramatic piece with the audience in rapt attention.
Darting a look at the noisy latecomers from the intermission, Hewitt ripped into the scales at the beginning of Bach's Chromatic Fantasy and Fugue in D minor. This could have been either humour or pique, but the audience was silenced. The piece was a high point, with glorious virtuosity as well as the intellectual pleasures of Bach's sinuous counterpoint. Hewitt's control and directness illuminated the Liszt Sonata in B minor as well. To hear this piece played with so little melodrama and fake dazzle was a revelation.
Liszt set up the main ideas immediately: heartbeats of low repeated notes, ambiguous scales, étude-like filigree, a triumphant tune and a moonlit tune. Hewitt brought out this rainbow of moods beautifully. Music is like stand-up comedy – the audience gets a thrill out of hearing ideas return with new twists. Liszt's hook, a melody in powerful chords, got grander each time it returned until it reached the ultimate in throbbing pianism.
I briefly doubted whether her rapid octaves would be forceful enough, but she carried the listener through with logic and passion.