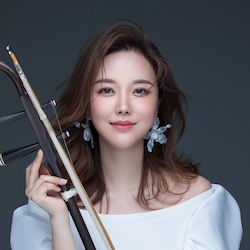 陸軼文 Yiwen Lu
One of the best-known erhu players in China, Yiwen Lu is director of the Erhu Committee of the China Nationalities Orchestra Society, and currently teaches erhu at the Shanghai Conservatory of Music.
Her major awards include the Erhu Youth Group's highest performance award at the 4th Wenhua Prize in 2012 and the Gold Medal of the 10th Golden Bell Award Erhu Competition in 2015. She was also listed among "The Top Ten Chinese Erhu Players" by CCTV in 2014. In 2019 she was selected into the Training Programme for Young Writers and Artists in Shanghai, and won a subsidy from the National Art Foundation Supporting the Young Talents Programme – Performing Arts.
In recent years she has been active in performing and promoting the erhu all over the world. She was invited to perform at the Opening Ceremony of 2016 China-Egypt Cultural Year. As a soloist, she has  collaborated with major orchestras and given concerts in the Antarctic Great Wall Station, the United States, Germany, Switzerland, Austria, Belgium, Israel, Singapore, Japan, Egypt, Taiwan and Hong Kong.
陸軼文現為中國知名二胡演奏家、上海音樂學院二胡教師,兼中國民族管弦樂協會二胡學會理事。
她的主要獎項包括2012年第四屆文華獎二胡青年組金獎及2015年第十屆金鐘獎二胡比賽金獎。2014年獲CCTV名為「中國新十大二胡演奏家」之一,2019年入選「上海青年文藝家」計劃及贏得「國家藝術基金青年藝術創作人才項目——舞台藝術表演」資助。
近年來,陸軼文以獨奏家身份活躍於國內外音樂舞台,並積極在全世界推廣二胡。她曾受邀參加2016中埃文化年開幕式演出。演出足跡遍佈南極長城站、美國、德國、瑞士、奧地利、比利時,以色列、新加坡、日本、埃及、台灣、香港等多個國家及地區,獲得高度讚譽。